The Isles of Scilly archipelago is a stunning outpost in the Atlantic Sea off Cornwall. It's a nature lover's delight, with windblown heathers, nesting birds, turquouise seascapes, and a rough coastline all vying for attention. And with the entire coastline defined as Heritage Coast, it will remain so for the generations to follow us. The marine landscape around the Isles of Scilly is also fully protected.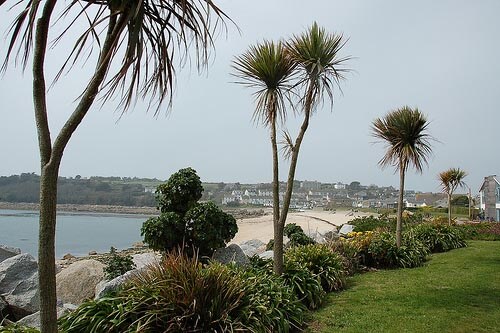 There's also much history here, with human habitation from neolithic times to today. There are a number of castles and forts still standing around the isles. In fact, there are 238 monuments dotted over the isles.
Farming is still alive and well here, with ancient fields still sown, tended, and harvested each season. Since 1879, flower growing has been a major farming industry here, after islander William Treveleck sent flowers from here to Covent Garden in London for sale.
The islands milder climate means spring arrives earlier here than anywhere else in the British Isles and allows the growth of some quite exotic plants here. This includes South American and Asian plants, in fact there are flora from over 80 countries thriving in the Isles of Scilly. Tresco's Abbey Garden displays many of these since Augustus Smith opened the garden in 1834. It stands by the remains of the 12th century St. Nicholas Priory. The 17 acres have been tended and added to by his family ever since.
But as always, the people are what really make a destination. The residents of the isles are self sufficient and down to earth, but there's also a strong influence from artists here.
Naturally, outdoor pursuits are very popular, as is evidenced by Gig (a type of boat) racing taking place every summer, drawing teams from all over the world.
Advertisements:



Photo by James.Stringer on flickr
You should follow me on twitter here.