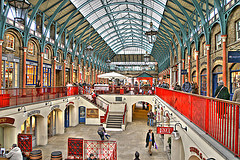 If you want to experience London at its finest, a trip to the famed Covent Garden should be on your travel to do list! London's Covent Garden has a notorious and rich history. The land once originally belonged to Westminster Abbey and later became one of the country's very first public squares, similar to the piazzas of Italy. Furthermore, the fruit and vegetable market that Covent Garden is renown for today actually dates back to 1649.
If you were to meander to this spot in the heart of London today, you would find that the Covent Garden area is a bustling epicenter for shoppers and tourists alike. Besides still offering delectable produce, today in Covent Garden markets you will find antiques, pottery, artwork, jewelry, clothes and many other hand-crafted items found and made exclusively in the U.K.
Advertisements:



While the history of Covent Garden is rich in theater and publishing houses, you can still see remnants of that in the work of remarkable street performers and also by picking up a classic edition of Charles Dickens' "Our Mutual Friend" (Amazon UK) at one of the many book stores still located in this historic square. If you are a foodie or simply just enjoy delicious cuisine, the Real Food market in Covent Gardens is another reason not to miss visiting this notable destination. Gourmet cheeses, fresh seafood and racks of roasting lamb will tempt your taste buds and leave you wanting more.
So, if you are simply a tourist craving a piece of historic London, or a fashionista on the hunt for a unique piece of jewelry or an essential garment to complete your travel wardrobe, Covent Garden markets will not fail to disappoint.
Photo credit: nick.garrod on flickr
You should follow me on twitter here.