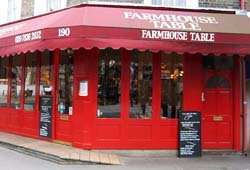 Saturday saw us in Covent Garden and at The Farmhouse Table, a restaurant I've been curious about for a while. It turns out to be a good choice at a reasonable price in central London.
Modern European food in Covent Garden
No gimmicks here, The Farmhouse Table serves up a mix of modern European food at decent prices. There are English, French, Greek, and Mediterranean influences, and looking around our fellow diners' plates, it seems it is all well executed.
I had a great dish of duck breast in orange sauce and garlic mash and vegetables. Quite simple French fare and very tender. Lauri ordered a lamb moussaka, which came out creamy and flavorful, with vegetables on the side. Both dishes were served with a bread basket, filled with farm bread fittingly enough.
Advertisements:



We didn't go for the starters or desserts, as the plates were already heaping. The two dishes, with a half liter carafe of house red wine and service, came to a not-bargain-basement but civil £38.50.
For this money, the food was great. The Farmhouse Table also does a daily two course lunch special, and it's reputed to be very good food.
Service and venue at The Farmhouse Table
The service was prompt and friendly. It's nice to feel like everyone from the greeter through to the barman likes having new customers come in. And this was on a busy Saturday night, so that's good praise.
The Farmhouse Table restaurant is a pretty simple affair. The outside is painted red, which on this corner of drab Shaftesbury Avenue really makes you notice, but the inside is wooden, neutral colors, and relaxing framed photos and paintings. The tables are draped with clean white table cloths and nice glassware.
During the evening, the restaurant does get quite a bit of tourist trade and while the venue was filled almost to capacity, it wasn't too loud. Overall, a very nice place to eat before a show or other entertainment in London.
The Farmhouse Table contact details
The Farmhouse Table
190 Shaftesbury Avenue
London
WC2H 8JL
Phone: +44 (0) 20 78361149
Nearest Tube station is Covent Garden or Tottenham Court Road, either is a 5 minute walk.
What's your opinion on The Farmhouse Table?
You should follow me on twitter here.