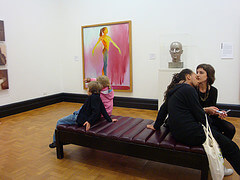 If you find yourself in London on a rainy afternoon, instead of wandering aimlessly down Drury Lane, perhaps a visit to The National Portrait Gallery would save the day. Founded in 1856 this expansive visual history of Great Britain is a sight not to be missed.
This collection of portraits is unlike any other in the world. The original intent of this gallery was to preserve the history of England in portraiture. Their criteria were not based on the latest art techniques and trends, but rather the status of the person in the portrait. That is still true today, history is an uncompromised tenet at the National Portrait Gallery.
You can find everything from portraits of notable royals and rulers to pictures of contemporary British actors. This artistic and historical diversity makes the National Portrait Gallery in London a success for everyone, no matter your status.
Advertisements:



Photo credit: Julie70 on flickr
You should follow me on twitter here.