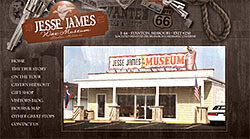 Jesse James is one of the most fascinating outlaws in American history - and that's saying something for a country that's seen Al Capone and Bonnie and Clyde. This gang leader from the 1860s and '70s is the prototypical Wild West bank robber - toting guns, raiding passenger trains, dying young.
Advertisements:



All that drama is beautifully captured in the Jesse James Wax Museum in Stanton, MO., just off of Interstate 44. It's near James' old stomping grounds, where he and his brother Frank were born and raised. You'll see life-like wax recreations of Jesse James at home, serving in the Confederate Army during the Civil War, and committing robberies. Other displays include artifacts from James' life and an antique gun collection. There's also a gift shop featuring books, posters, clothes and other unique objects.
The most exciting part of this museum deals with a unique and controversial period in James' life: the time after 1882, when he was allegedly shot dead by fellow James Gang member Robert Ford. In 1948, Rudy Turilli claims he discovered that Jesse James faked his death and started a new life as "J. Frank Dalton." Museum visitors will watch a stunning film featuring people who knew James/Dalton - and even the man himself.
There's plenty of other things to do once you're in central Missouri. The Stanton area is rich with family-friendly activities, many of them just down the road from the museum. Meramec State Park to the south boasts natural trails, a scenic river that winds through the hills, and caves worthy of exploration. In fact, Jesse James himself hid in one of the caves in this system while he was on the run. It's now known as Jesse James Cavern. If you visit the state park, be sure to take a tour of Fisher Cave, a classic cavern with calcite deposits 30 feet high.
Jesse James Wax Museum address and hours
Jesse James Museum
Interstate 44
Stanton, MO 63079
The nearest larger city is Saint Louis, Stanton makes a great day trip.
Be sure to check with the museum before heading over, as it's closed during the week through shoulder season.
April-May - Open weekends only - 9am-5pm
June-August - Open everyday - 9am-6pm
September-October - Open weekends only - 9am-5pm
November-March - Closed for winter
You should follow me on twitter here.