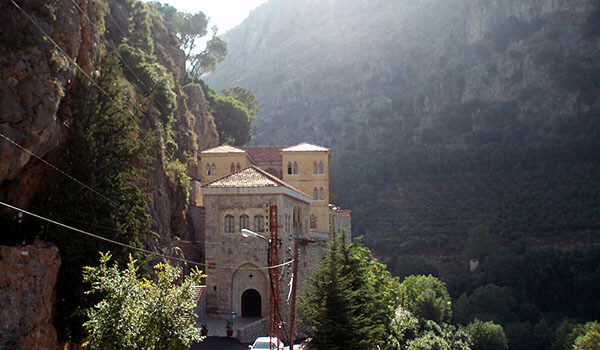 The Monastery of Qozhaya in North Lebanon is dedicated to Saint Anthony, who is also known as the Father of all Monks. Anthony is a saint of the Christian religion who was born in Egypt in 251 and who became an ascetic, living a life of abstinence and piety. He lived as a hermit, secluded from society. Qozhaya is a very old and very rich monastery in the Kadisha Valley, which is a deep gorge bisected by the Kadisha River.
The Lebanese Maronite Order was given the monastery in 1708 by the See of the Maronite Patriarch, the authority of the Eastern Catholic Churches. By the early part of the Nineteenth Century the Monastery of Saint Anthony of Qozhaya held over three hundred monks. The Middle East's first printing press was put in the monastery in 1584, and the monastery is now classified as a worldwide cultural heritage site by UNESCO. It has become a prayer and pilgrimage center, as well as a tourist destination.
Located 950 meters above sea level, the monastery consists of The Grotto of Saint Anthony the Great, the Church, the Museum and the Library. The grotto, or cave, is said to have been the scene of miraculous cures that took place in it. The church is in a cave that is supported by pillars and arches with three bell towers, with the middle tower being carved from one piece of rock. The ancient printing press can be viewed, as well as a diamond and ivory-encrusted scepter that was presented to the monastery by King Louis IX of France.
Advertisements:



The museum contains artifacts of religious and cultural importance, some which were gifted to the monastery by kings and other heads of state. The library's archives are in Arabic and Syriac, with a great many printed texts. Also on the monastery's estate is the Monastery of Our Lady of Hawqa, which was the first Maronite school, the Cave of Youssef Bey Karam, a Nineteenth Century Lebanese hero who took refuge in one of the caves, and the ruins of Madinat Er-Rass, which dates back to the Romans.
Photo by DAVID HOLT on flickr
You should follow me on twitter here.