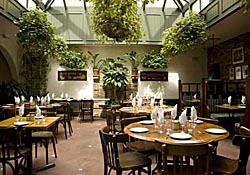 To celebrate some good news, my wife and I went to Lemonia in Primrose Hill last night to have a nice meal. And it was very nice indeed. Lemonia is located in one of the most aesthetically pleasing streets in Hampstead – full of art galleries, cafes and delicatessens. It's a well-off area of London, and it shows. The restaurant itself is nicely fitted out, with lemon motif stencils decorating both seating and some of the floor tiles. We were seated towards the back of the restaurant, which is actually a glass-roofed conservatory and filled with flowers.
Lemonia is a busy venue, the waiters are eternally rushing to fill orders, and the laughter and discussion from other tables fill the space. While it makes for difficulties in having an intimate conversation, the pure energy makes the place come alive.
Lemonia's Greek Cypriot food
The food here is traditional Greek Cypriot and it's very good. There's a wide selection of charcoal grills, such as lamb shashlik, which is marinated cubes of lamb grilled on a skewer with crisp vegetables. Of course, this being a Greek restaurant, there's meze on the menu. Meze is a selection of cold and hot starters, and taken as a meal at Lemonia, it includes a selection of charcoal grill mains as well. Meze is quite a staple of Greek food, and the amount of food you'll get ordering it here is astounding. We stuffed ourselves until we could barely move. This was all washed down with some really nice Greek wine.
There's also a good selection of vegetarian dishes, so anyone you're taking to Lemonia will find something to eat. Selections like black eyed beans with spinach, olive oil and lemon juice, or stuffed vegetables with spices are just a sample.
Overall, this is the best Greek food I've come across, and while the menu isn't a bargain (this is Primrose Hill after all...) it's quite good value for what you'll get. The two of us ran up a tab of £67, including wine and dessert.
Lemonia's contact details
Advertisements:



Lemonia distinguishes itself by always being fully booked on the weekends, and often during the week as well, so call ahead for a table. Preferrably a day or two in advance.
Lemonia
89 Regents Park Road
London
NW1 8UY
Phone: +44 (0)20 7586 7454
You should follow me on twitter here.