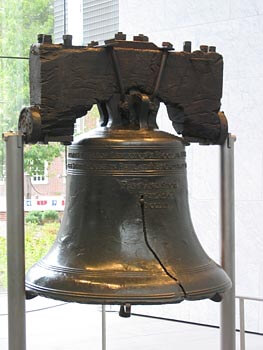 In appearance alone, The Liberty Bell is not impressive in scale; however, knowing the history behind it helps one appreciate the magnitude of the Liberty Bell. On July 8, 1776, bells rang throughout America to mark the reading of the Declaration of Independence, including the one hanging in the tower of the State House of Pennsylvania, now known as Independence Hall, Philadelphia.
Advertisements:



"Proclaim LIBERTY throughout all the land unto all the inhabitants thereof" is cast upon the bell, which also features a massive crack dating to the early 19th century. Throughout the years, the Liberty Bell has stood as an enduring symbol of freedom.
The Liberty Bell, now encased in glass, is housed in a building known as the Liberty Bell Center, with a fantastic view of its former home, Independence Hall. The center offers extensive information on the bell's history, as well as the opportunity to get close to an iconic piece of American history. Viewing the Liberty Bell is free, with no tickets required. However, you (ironically) have to go through a security screening, so be sure to take as few items with you as possible to make the process go quickly. It may sometimes take a half hour or more to clear security, although it is suggested that going earlier is better.
It honestly does not take very long to see everything there is to see at this site. A tour of Independence Hall, site of the Declaration of Independence, which is also free, but requires tickets from March through December, will complete your visit. This is a part of our nation's history which is worth visiting for history buffs, and average Americans alike.
The Liberty Bell address and hours
The Liberty Bell Center
600 Chestnut Street
Philadelphia, PA 19106
Phone: +1 215 965 2305
The Liberty Bell Center is open from 9 a.m. to 5 p.m.
Photo by zoonabar on flickr
You should follow me on twitter here.