Atitlan Lake was formed thousands of years ago. In fact, it is a crater filled with water of an old massive volcano. It's backdrop is three inactive volcanoes with indigenous villages at their foothills. The most popular destination here is Panajachel with its funky cafés, delicious restaurants and fun outdoor markets perfect for family vacations.
Here are other villages that are must do's:
Santiago de Atitlan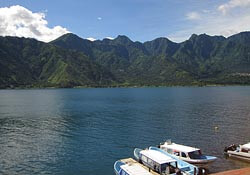 This is a traditional Mayan town and the largest village on Atitlan. None of the other Lake Atitlan villages will give you an insider view of how the indigenous really live. You will bump into locals wearing their traditional clothing as they pass by. Plus, make sure to find Moximon, the Mayan idle, who like tobacco, alcohol and coca cola as offerings.
Panajachel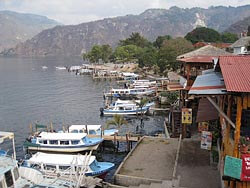 I think of Panajachel as a tourist oasis conveniently located on the banks of Lake Atitlan with a view to die for. This cute and colorful town is located between San Pedro, Atitlan, and Toliman volcanoes. Some of the things you will find here are: colorful markets, plenty of restaurants and cafés, boat tours, and a great nightlife.
San Marcos la Laguna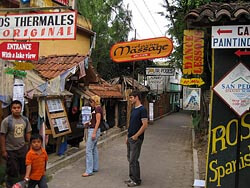 Known as the spiritual enlightenment town of the area, you will find more yoga retreats and 'new age' centers than psychics at a psychic convention. But it's all part of the fun!
San Pedro la Laguna
Advertisements: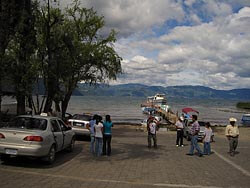 Hippies, expat, outlaws, evangelists and indigenous make up the majority of the people who live here. So while you're studying Spanish at one of the super cheap schools, you'll get plenty of eye candy as these folks intermingle and multiply. San Pedro also has a bunch of fun restaurants with all sorts of cuisines to try out.
Personally, I love visiting this area of Guatemala. It's so unique with the people that live and come here, and the beauty of the place simply takes your breath away. And my kids love it just as much as I do.
About the author

Marina K. Villatoro is an expat living in Central America for over 10 years. She travels with her family in Central America. Connect with her on twitter and facebook.
You should follow me on twitter here.