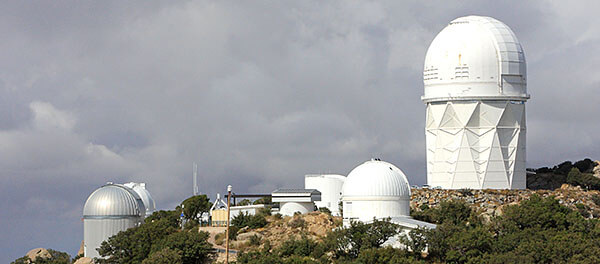 For an out of this world experience when in the Tucson, Arizona area check out the giant telescopes that pierce the night sky at the National Optical Astronomy Observatory which sits high above lands that have been home to Native Americans for thousands of years. Located on Kitt Peak within the Tohono O'odham Reservation in the mountains surrounding the Sonoran Desert, the NOAO and Kitt Peak Visitor Center house the largest collection of optical telescopes in the world. While the center is the national home of nighttime astronomy with an emphasis on research and development, its other goal is to promote education and encourage young people to become interested in the field of science.
The scenic 12 mile drive up the mountain is just the beginning of your journey when visiting the observatory. Organized staff-guided tours as well as audio and self-guided walking tours are available. The Nightly Observing Program which runs from late afternoon until dark is a great option for those wanting to gaze at the stars at night. Along with housing the largest solar telescope in the world the observatory was the first to actively seek information on asteroids coming close to Earth, and is home to numerous other instruments used to explore the galaxies.
Advertisements:



In the museum gift shop, you will find souvenirs to commemorate your visit to the observatory, as well as a huge selection of astronomy related material and books. Historical information about the facility, crafts made by the local Tohono O'odham Indians and spectacular photography provided by the telescopes viewing the night sky can also be found there. Snacks and beverages can be purchased at the visitor center and Kitt Peak also offers a beautiful picnic area complete with tables and facilities for your use. Whether making it a day trip to tour the center and view the surrounding desert and mountains or staying for the nightly parade of constellations across the sky, the National Optical Astronomy Observatory is a place the entire family can enjoy while learning about the astronomical world.
National Optical Astronomy Observatory location and hours
National Optical Astronomy Observatory
950 North Cherry Ave.
Tucson, AZ 85719
USA
The center offers free admission and is open daily from 9 am until 4 pm, except for Thanksgiving, Christmas and New Year's Day.
Photo by Sam Howzit on flickr
You should follow me on twitter here.