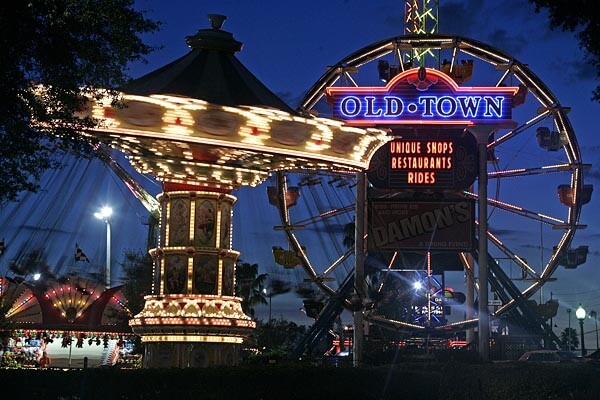 There is a little known gem just outside of Disney World in Orlando, Florida called Old Town. Themed around the 50's, this 4 1/2 block area of Kissimmee is packed with tons of activities for the young and the old alike. Whether you are looking for fine dining, fast food, or ethnic cuisines, Old Town will surely have a place for you to sit and enjoy a great meal.If your looking to shop, Old Town boasts more than 50 unique shops and an abundance of sidewalk vendors where you will surely find something that will peak your interests. Old Town also offers a few unique shows for you to enjoy including the Friday Night Muscle Car and the Saturday Night Cruise which consists of over 300 cars dated 1974 and older driving down Mainstreet (Please check their web site for details).
Advertisements:



Now for the young at heart! Old Town offers a nice variety of rides for the kiddies and parents alike. Whether you are 6 or 60, Old Town surely has a ride for you to enjoy. If you would like to see what Kissimmee looks like from above hop on the 60 foot ferris Wheel and for the adventurous ones out there, take a ride on the Super Hot. This rides takes you up a staggering 150 feet in the air and drops you straight down.
On the lighter side you and your kids can jump on the Frog Hopper or the Wacky Worm Kiddie Coaster or even have a family race on the gokarts. No matter how old you are Old Town packs a ton of adventure into a small area. In closing, don't forget to stop by the bandstand to see some of their nightly entertainment.
Old Town Orlando location and hours
Old Town Orlando
5770 W. Irlo Bronson Memorial Hwy
Kissimmee, Florida 34746
Establishments are open all day and late into the night.
Photo by Kissimmee - The Heart of Florida on flickr
You should follow me on twitter here.