With cutting-edge fashions, fabulous food and some of the loveliest outdoor spots in the world, it seems that all the stereotypes are true… and we're more than happy to indulge.
And of course, everyone has heard of the big attractions like Louvre, Eiffel Tower, Champs-Élysées, and Notre Dame Cathedral. But it's actually the lesser-known spots in Paris that can really give you an interesting taste of the city.
So skip the crowds and head for the offbeat secret spots of Paris. Here's a video from Peter Greenberg to start you off:
Drink in the Museum of Wine
Right by the Seine, the Museum of Wine is located in a series of caves underneath Paris. Here, you can see different wine-making tools, old bottles, and types of wines on display. English-speaking guides are available, or you can wander the museum by yourself.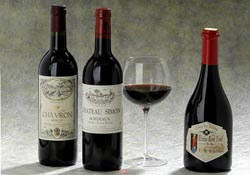 The museum also offers wine-tasting classes that teach you how to recognize different wines and champagnes. These classes can give you a good idea about the great variety of wines that exist and the different features of wine, including color and smell. These classes are appropriate for beginners or connoisseurs. It's a great start before you explore the drinks of France on your own.
The museum's upscale restaurant is also underground, and their prices (an average meal costs 40 euros) include a visit to the museum, various gourmet meals, and wines. Keep in mind that it only is open for lunch from Tuesdays to Saturdays. The museum's boutique also sells wine and books about oenology.
Metro: Passy
Website: www.museeduvinparis.com
Museum of Fashion
The Palace of Galliera welcomes temporary exhibits about fashion throughout history, but more specifically from the 18th and 19th centuries. These prestigious collections feature major designers of the last three centuries and over 90,000 pieces.
The palace was built in the 19th century for the Duchess of Galliera, who wanted to share her art collection. Many say the palace itself is as beautiful as the pieces in the museum. It was inspired by the Italian Rennaissance, rendered by the architect Paul-René-Léon Ginain, and built by the Gustave Eiffel Agency (yes, the one that built the Eiffel Tower). You can also visit the gardens, which feature sculptures, paintings, and fountains. For more information, visit this Web site.
Metro: Iena/Alma-Marceau
Website: www.evene.fr
Find a secret garden
If you're careful, you can find a little secret garden by the Palais de la Decouverte at the very beginning of the Franklin Roosevelt Avenue. From the outside, you'll only see white statues, and if you're not paying attention, you might never guess a garden exists behind the statues. On the right, you'll notice a few steps under some trees.
If you go down these steps, you'll be in a whole other world with a small fountain with goldfish, a small waterfall on the left, flowers and grass on the right, and two or three benches near the path. In this quiet spot, you can't even hear the cars on the surrounding streets, so it may be the ideal place for a romantic walk or picnic.
Metro: Franklin Roosevelt
La Fleche d'Or
Just near metro Gambetta, walk along the Pyrenees Street until Bagnolet Street and you'll arrive at a very original bar/restaurant/concert venue called la Fleche d'Or (meaning "the golden arrow"). The space is actually a former railway station, which is obvious by the décor. The largest space, where rock and electro bands perform, features the front of an old train hanging above the bar. The stage is surrounded by a huge golden frame, which gives the impression that the band playing is a moving painting. The restaurant has red velvet chairs on a veranda overlooking the now-overgrown railways. On the ceiling, you can see a big golden sculpture that looks like it comes from a Versailles fountain.
Admission is always free (18 and over), and after midnight, DJs spin electronica, and the venue changes into a nightclub. Here, you can dance the night away until until 6 a.m.
Metro: Gambetta
Website: www.flechedor.fr (in French)
Le Refuge des Fondues
This Montmartre restaurant is low-key, friendly and inexpensive. You can only have fondue there: either savoyarde (cheese) or bourguignonne (meat cooked in hot oil). The meal also includes a starter plate made of appetizers and a glass of rosé. You can end the meal with more cheeses or cleanse your palate with a fruit salad (or opt for chocolate cake). Plus, you even get a half-bottle of red or white wine. All that for just 15 euros.
The place is small but cozy, and the waiters speak with strong Parisian accents but are among the friendliest you'll find in Paris. The walls are covered in customers' scribblings, and you, too, can add to them—just ask your waiter for a "marker" or "un stylo."
Metro: Abesses
L'Entrepot
Behind Montparnasse, l'Entrepot (meaning "the warehouse") is a café, bar, and restaurant. It also houses a cultural center, which includes an art house movie theater, gallery, and rotating exhibits.
The art house theatre was created by former President Mitterand's nephew Frederic Mitterrand in order to broadcast recent and older French or international movies that are not necessarily distributed to big theatres. The ticket price is 7 euros (most theaters are 9.5 euros).
Advertisements:



The place also welcomes exhibitions of contemporary paintings, photos, sculptures, or engravings in the art gallery. It is free to the public and open every day from 2:30 p.m. to 7 p.m.
The bar/lounge area on the ground floor might be a relaxing place to have a drink or a snack. In the daytime, you often can catch musical performances, but at night, the atmosphere veers toward more "artsy" types of performances, like poetry readings.
The restaurant is located on a veranda, which floods the place with light. In the summer, you can enjoy your lunch on the outdoor terrace. The restaurant features seasonal, authentic French cuisine. Prices are reasonable: around 30 euros for a starter, one course, and a dessert. If a live concert is performing, you are welcome to watch it for an additional 5 euros. They also have a special meal-and-movie menu, called "cine-resto," for 22 euros.
Metro: Pernety
Website: www.lentrepot.fr (in French)
Les Pietons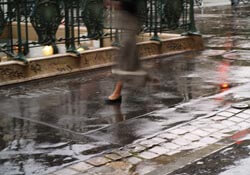 From Spanish-speaking waiters to Latin music and sangria, you'll feel as if you've crossed the border into Spain when you step inside this tapas bar.
The best time to go is probably between 4 p.m. and 8 p.m. for happy hour: A glass of sangria is 2 euros, and any dish is 4 euro. Because of the food, drinks, and cheap prices, it is a good place to start your evening before heading out on the town.
Metro: Chatelet
Website: www.lespietons.com (in French)
Shopping at Etienne Marcel
Famous for its innumerable shops, Etienne Marcel is a very hip area of Paris. One of the favorite shops for locals is a vintage secondhand clothing store called Kiliwatch. Here, you can find real treasures, clothes, shoes, handbags and other accessories, from different decades at reasonable prices. Since vintage clothes are all the rage in Paris these days, the place became a "must-go." Plus, unlike most Parisian shops, this one is open on Sundays!
If you want to maintain that vintage feel even when you're done with shopping, you can go to the trendy nearby café called "Etienne Marcel." Decorated in a colorful '60s style, you can have an espresso, eat lunch, or sample their surprisingly large variety of ice cream. Be careful, though, as meals here tend to be on the pricey side.
Metro: Etienne Marcel
Passage Jouffroy
Jouffroy is what the Parisians refer to as a "passage"- essentially, a Paris street connecting to grand boulevards lined with shops and topped with a roof. Passage Jouffroy, facing the Musée Grevin (a wax museum), is one of the most interesting and most frequented of all the passages left in the city. Created in 1836, it was the first passage with a roof entirely made of glass and metal - it was also the first to be heated through the ground.
Well-liked for its diverse selection of boutiques, here you can find everything from an Oriental store with all kinds of Asian items to the fancy canes shop. You also can take your kids to an old-fashioned toy store called Pain d'Epice (meaning "gingerbread"). And, if you're a fan of cinema, you can go to a small boutique specializing in vintage and modern movies, film magazines and posters.
Finally, after visiting or shopping, if you're feeling peckish, check out a little pastry shop called "La Tour des Delices" at the end of the passage. Warning: you will probably want to eat everything here.
Metro: Grands Boulevards or Opera
You should follow me on twitter here.