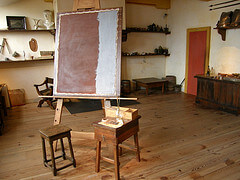 Rembrandt House Museum is a veritable shrine dedicated to the life and works of celebrated Dutch painter Rembrandt Van Rijn, better known as Rembrandt. Holland's most famous painter lived in this Amsterdam house for over twenty years in the 1600's. He purchased it once he started to make an income from his painting.
The house fell in disrepair but the Dutch government recognized its importance and undertook extensive renovations to restore it to its former glory. The neo-classical period building with its dark undertones perfectly complements the varied works on display.
A huge selection showcases his haunting and brooding self portraits. These were done at various stages in his life and exposed all his angst and fears. There are also over 250 etchings and drawings, these include St Jerome, Abraham's Sacrafice, prints of David and Goliath and impressive landscapes such as the View of Haarlem and Bloemendal.
Contemplate his usage of copper etching plates, original easels, paint and brushes in a carefully restored workroom. In addition of his own works there are selections by other masters such as Christian Wilhelm Deitrich, George Schmidt, Jan Lievens and Johannes Van Vliet. Interestingly many of them were pupils of Rembrandt.
The Museum is open Mon-Sun and costs 7 Euros, it's located at Jodenbreestraat 6, 1011 NK Amsterdam. So if you are ever in Amsterdam visit this fascinating place and bask in the genius of the man known as Rembrandt.
Advertisements:



Photo by maxnathans on flickr
You should follow me on twitter here.