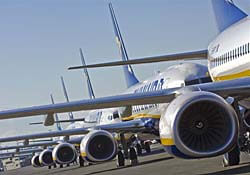 In what has to be a new low for an airline, European budget carrier Ryanair will now give fines to passengers with "excess" cabin luggage. With already strict cabin baggage allowances and steep fees, Ryanair's passengers are trying to bring more than the single allowed piece of luggage onboard. Those passengers are now likely to find themselves slapped with a €30 fine for their subterfuge.
The low cost airline invented the system of paying for checked bags, and possibly charge the steepest fees for doing so. In fact, to check a bag for €10, you also need to use airport check-in, which is also subject to a fee of €5. For each flight! And that's far from the only fee anyone wishing to fly with them will face...
Advertisements:



So instead of paying the fees, passengers are trying to get around it. But those days are over. Passengers caught with oversize bags (more than 10kg or anything other than a single bag, that includes a purse) will face the €30 fine. Even more cleverly, or rather miserly, once on board, passengers won't be able to check bags. So it's either pay up or don't fly.
Here's how PR rep Stephen McNamara puts it: "Due to the large increase in passengers abusing this allowance, Ryanair will now charge passengers for each additional piece of carry on luggage. Passengers are made clearly aware of their cabin allowance at the time of their booking and it is also printed in their online boarding cards. Passengers who are unable to place items into one bag and refuse to make the additional payments will not be permitted to travel."
I'm sure Ryanair will see more people paying for a checked bag, but I'm not so sure this is good in the long run. In any case, I try to avoid them unless I get really cheap airfare.
What's your take on Ryanair?
You should follow me on twitter here.