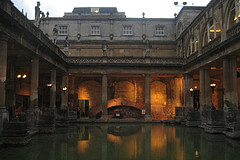 Bath in England is a beautiful city, which was built in an area where hot springs were common. As such Bath has been famous for its spas for many years. They were popularized during Roman times, when some incredible spa complexes were constructed in the Bath area and Thermae Bath Spa brings this ancient tradition into the modern world.
There are two main spas, these being the New Royal Bath and the Cross Bath, both of which can be booked in advance for spa sessions or you can also turn up for the day to take advantage of the facilities. There are a number of spa treatments available and these include massage, hot stone therapies, deep cleansing body wraps and thermal treatments which utilize the mineral rich waters. The spa sessions and treatments are relaxing for body and mind and are an excellent way to get away from the hustle and bustle of everyday life. Or rejuvenating yourself in the middle of a hectic trip.
Advertisements:



For those interested in the history of the spa in Bath, the visitor centre provides an excellent opportunity to educate yourself about this tradition. Exhibits show the development of the spa in Bath, from the founding of the city through to the modern day. The Spa also has a café and restaurant and a visit to these can be added to spa sessions. If you wish to carry on the spa treatments after your visit, a shop is available where many of the products used in the spa are available for sale.
A visit to Bath would not be complete without taking advantage of the spas for which the city is famous. You will be following in the footsteps of the Romans and Thermae Bath Spa provides a modern version of this tradition, with a visit making for a relaxing day out.
Photo by WallyG on flickr
You should follow me on twitter here.