After finding Wordle.net and making my own Wordle, I thought to ask other travel bloggers to send in theirs to help show what a range of topics there are in the travel blogging community. Here are the results from 8 fantastic travel bloggers:
Travel Blogs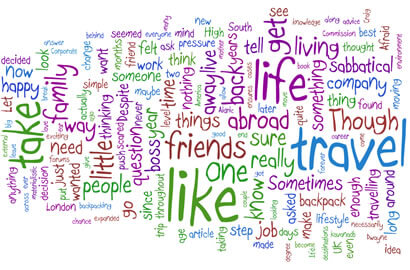 Peter from Travelblogs says:
TravelBlogs.com highlights some of the best travel blogs on the internet. Aside from the obvious presence of "Travel" in the wordle, "Life" is an interesting one, maybe because of the recent popular article My Travel Blog Saved My Life by Ant Stone. Or maybe because this blog has a lot of people contributing for who travel really is a way of life. Not one of the larger words, but a prominent one, "family" is due to articles like Why Travel With Kids is an Enriching Experience, a panel discussion with various top family travel bloggers.
Visit TravelBlogs.com
Unearthing Asia
Advertisements: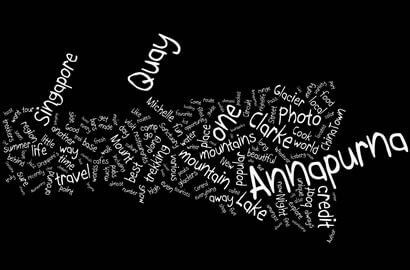 Nik from Unearthing Asia says:
My blog is simply about Asia. We've been a travel fan our whole lives and have noticed a great list of resource on travel and traveling, but didn't see much that focuses on Asia – so we decided to make one our own! We are new, have only been around a good one month or so, and our single-sentence pitch is as follow: A Travel Blog focusing on Culture, Lifestyle and Attractions all around Asia.
About the Wordle, well that was a fun experiment really. I think it highlights the fact that we've just published (at that time) two recent posts, one on Trekking the Annapurna, and another on Singapore's Clarke Quay. A comparison with a more recent Wordle I just did confirms this suspicion. On the new Wordle, Hong Kong is prominent, because I just published a recent article on Ten Things to do in Hong Kong.
Visit UnearthingAsia.com
Virtual Wayfarer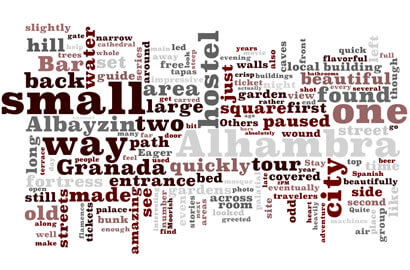 Alex from Virtual Wayfarer says:
VirtualWayfarer is a blog dedicated to exploring the world and all of its amazing facets. While on the road the author, strives to put readers in the passenger seat with in depth narratives of his explorations, adventures and revelations. The blog is also a wealth of travel tips and tricks including what to pack, hostel pricing guides and much more.
Inbetween trips the author delves into other realms exploring new media, technology, virtual worlds, economics, entrepreneurship, food and even salsa dancing. The Wordle illustrates the descriptive, engaging approach the author takes when writing about each area. With words like Alhambra and Albayzin from Spain front and center one can tell quickly what part of the world the author in when the Wordle was created. 
Visit VirtualWayfarer.com
Indie Travel Podcast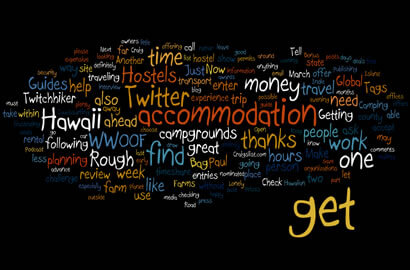 Craig from Indie Travel Podcast says:
The Indie Travel Podcast is a magazine-style travel blog featuring a weekly audio podcast and seasonal video podcasts too. Our Wordle doesn't seem to be a good site-wide picture, but it is a very accurate snapshot of the previous half-dozen posts.
Things I consider "pillars" of the site, like our free audio guides to Kuala Lumpur, Perth and Vienna weren't mentioned and the WorldNomads Travel Podcast Scholarship which we've been writing about fortnightly for the past six weeks hasn't made the cut either.
On the other hand, Hawaii and its variations get a few large mentions while we've only ever published one post on cheap accommodation in Hawaii. It's probably the way our site is designed – it's much more human friendly than machine readable – but Wordle didn't shape up for us.
Visit IndieTravelPodcast.com
Girls Getaway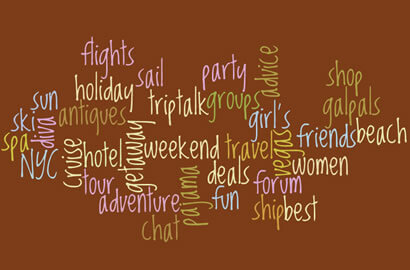 Dian from Girls Getaway says:
GirlsGetaway.com is a women's travel site where women can get real travel advice, tips and reviews from other women travelers. GirlsGetaway is where you can go for information about top destinations as well as exploring the road less travelled. It is a gathering place for women to find out all about great local weekend trips with girls or a place to plan your next wild and wicked world adventure.
Visit GirlsGetaway.com
Lucy Loves Australia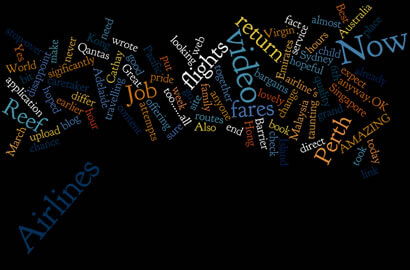 Visit LucyLovesAustralia.com
The Travel Blog by Travelpod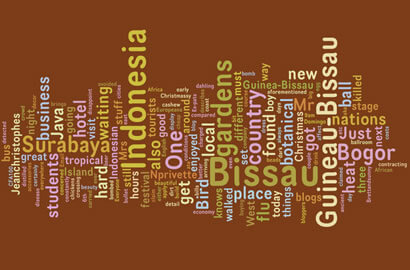 Visit Blog.Travelpod.com
Starlagurl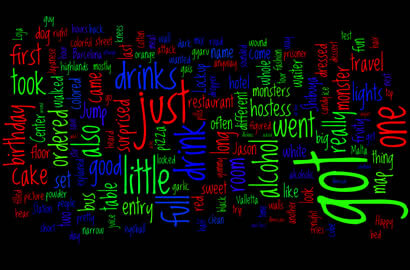 Louise from Starlagurl says:
My blog is about all my travels, whether they are weekend jaunts like my most recent trip to Killaloe, Ontario, or trips to the other side of the world like my trip to Thailand in October. The Wordle shows that I usually focus on finding new and exciting things to do, eating and drinking (!!!) and having fun with my friends. I know it sounds stereotypical, but when it comes right down to it, is there anything else more important in life?
Visit Starlagurl
You can make your own Wordle at wordle.net.
You should follow me on twitter here.