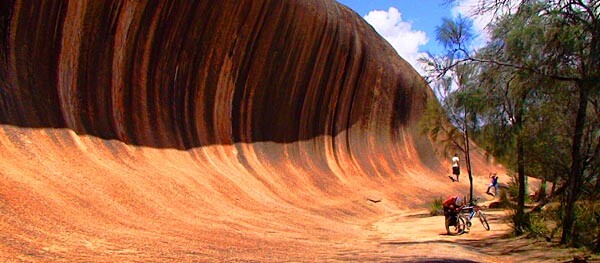 Australia is home to many unique and interesting rock formations. Wave Rock, a geological wonder millions of years old, mixes the aesthetics of an ocean wave with the strength and longevity of stone. At 15 meters tall and 110 meters long, this colossal formation appears to be a tidal wave formed from the earth. It is a spectacle for locals and tourists alike, as the area was inhabited by local peoples for thousands of years.
Wave Rock and nearby Hyden, Australia, are also home to many other attractions. Bird lovers and wildlife enthusiasts can explore Australia's vibrant ecosystem at the Wave Rock Wildlife Park. During the spring months, visitors experience the vast array of western Australia's floral district. Indigenous flowers are sold locally during these times, making for one of a kind gifts.
Nearby Lake Magic and the Wave Rock Motel provide both a place for water-lovers and excellent lodging, respectively. Overall, Wave Rock provides hours of amazement. One may go for adventure, knowledge, or relaxation,and will surely leave satisfied.
Wave Rock location
Wave Rock is located near the small western Australia town of Hyden, 4 hours drive from Perth or a 1 hour flight. There are also 2 buses each week, and regular tourist bus service.
Advertisements:



Photo by DON PUGH PERTH WESTERN AUSTRALIA on flickr
You should follow me on twitter here.