Introduction to Doha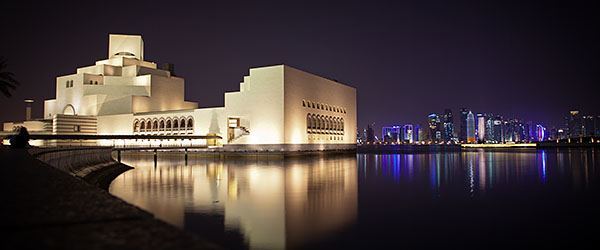 The capital city of Qatar, a state on the Persian Gulf, Doha is also the country's cultural and commercial center. Arising from a fishing and pearling village until the discovery of oil, the city was once a British protectorate and became the seat of Qatar's Arabic-Islamic Emirate ruled over by Sheikh Hamad bin Khalifa Al Thani.
An exotic mix of old and new, Doha has excellent examples of both modern and traditional architecture, mosques and bazaars. The harbor is a flourishing international deep water port of commerce and the dhow harbor is also a busy attraction for visitors. Nightlife in Doha is centered around the international hotels which offer bars and discos for their guests. The traditional shi-sha, or water pipe, cafes and coffee houses are also a favorite stop for tourists who would like to smoke some fruit-flavored tobacco and enjoy exotic Middle Eastern cuisine. Visitors can take safaris into the dessert or simply enjoy the many beaches or hotel pools.
Doha is where the University of Qatar is located with its seven colleges and two libraries. On the outskirts of Doha is Education City, an area devoted to research and education that is home to a great many educational facilities and branches of some of the leading universities in the world including Georgetown University and Carnegie Mellon from the United States.
The tallest building in Doha, at almost a thousand feet high, is the Aspire Tower. A landmark of the 2006 Asian games, this structure contains a sports museum, a rotating restaurant and a viewing platform. The renowned architect, I. M. Pei, designed the Museum of Islamic Art in Doha. It contains a complete collection of Islamic artifacts and was built on a stand-alone, sixty-four acre island just off the Corniche. Also offshore of the west bay lagoon of Doha is a group of artificial islands being constructed for residential use called The Pearl. Available for freehold ownership by foreign nationals, The Pearl will have commercial and educational facilities besides support facilities for the residential developments which include upscale retail shops and fine dining restaurants.
The main district in Doha is Al Waab, which is where the sports stadiums, Aspire Tower and the city's most famous mall, Villagio, is located. The Villagio is a Venice-themed shopping mall with one hundred thirty thousand feet of retail space for stores such as Tiffany's, Gucci, Louis Vuitton, Ralph Lauren, Burberrry's, Dior and an IMAX 3-D theater.
Situated on the Arabian Peninsula, Doha has an arid climate with mild winters and very hot temperatures from May to September. The city continues to rapidly grow and expand continuously with new highways, roadways and a new airport, which will be one of the world's largest. Doha is considered to shortly become one of the premier cities in the Gulf.