Introduction to Essaouira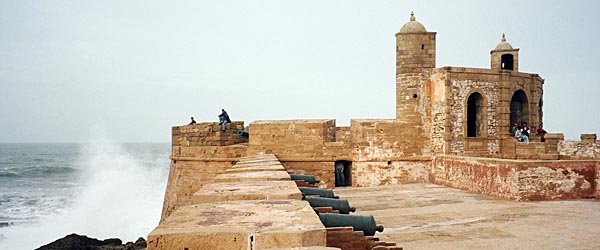 Essaouira is a Moroccan city that can be found on this North African country's western coast, marking the boundary between the African continent and the Atlantic Ocean. Due to its excellent location, the city has been a major North African harbor throughout most of its history. Today, the harbor is less important than it once was, due to a lot of competition from neighboring coastal cities. Nevertheless, the small fishing harbor is known for its abundant catches, thanks to the coastal upwelling of nutritious water.
As a tourist destination, Essaouira is a great choice. The city has been habituated since prehistoric times and a lot of antique artifacts have been unearthed. Due to its multitude of small art galleries and a yearly music festival (the Gnaoua Festival of World Music, usually during the last week of June) the city is proud to promote itself as a city filled with culture. For those who want some exercise after all this culture, are lucky too. The powerful trade winds that swipe along the coast provide the perfect setting for kite- and windsurfing. Or you can explore the desert, which can be found further inland, on a camel. And of course, like in many great North African cities, the medina, a walled city district that is completely traffic free, is a great way to inhale some local culture. In fact, the medina of Essaouira has been declared as UNESCO World Heritage.
So, Essaouira is a great travel destination, with something for everyone. Whether you enjoy ancient artifacts, authentic North African culture, or a beautiful beach, Essaouira is the place to go.

Photo by Jaboney on flickr