Introduction to Nimbin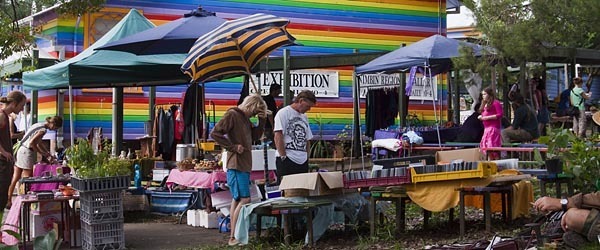 How about taking a trip "down-under" mate? The people drive on the wrong side of the rode and speak English but it is different from our English for sure! Now that we are going to Australia let's visit Nimbin in New South Wales.
Nimbin is in the "Rainbow Region" and is an important cultural area for the Australian Aborigines. One of the big events in Nimbin is the annual MardiGrass festival. It is held the first weekend of May and the fun and frivolity is all centered around cannabis (marijuana), which is illegal in New South Wales. Some of the actives of the festival are a Prohibition protest rally and parade. At night there is a Harvest Ball and Picker's Ball, poetry reading and jazz concerts in the cafes. You visit the Nimbin Museum where there is a collection of local art and alternative culture tours. A trip to the Nimbin Hemp Embassy may be of interest – it is a "soft entry point for drug information" and has everything that has to do with Hemp except the product itself, which is the backbone of the economy in the village.
Nimbin is a major tourist attraction during the late spring and summer. The village attracts backpackers from all over the world. It is noted for being an international mecca for eccentric colorful people. You may want to visit the Nimbin Rocks, which is a series of jagged solidified plugs that were left after the erosion of the volcanic dykes. Mt Warning is nearby and the summit is said to be the first place on the mainland that sees the sunrise. If you want to some mountain climbing this would be the place to do it. You can learn the aboriginal culture here and swim in one of the many rivers and creeks.
Nimbin is truly a different vacation experience but worth your time to learn new things.
Photo by Michael Dawes on flickr