Introduction to Santa Cruz (California)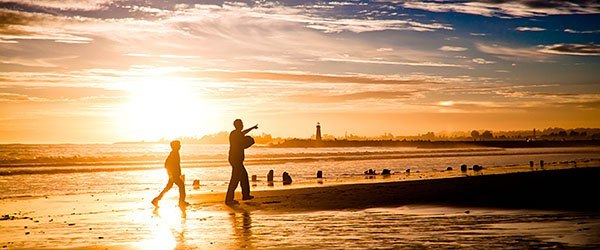 Less than 2 hours' drive south from San Francisco, Santa Cruz offers some of America's most pristine beaches, as well as easy access to the mountains and redwood forest.
With its laid-back atmosphere and lingering hippie influence, it's the very definition of a relaxing getaway, with plenty to do for both families and singles. It's impossible to define Santa Cruz by one attraction alone, but it is noteworthy for being home to the Santa Cruz Beach Boardwalk, a classic amusement park by the sea. Admission to the Boardwalk is free (there's only a charge for the rides), making it well worth a visit just to take in the sights and enjoy one of the last amusement areas of its kind. Two of the rides have been designated National Historic Landmarks, one of which is a 1924 wooden roller coaster. The other is the Boardwalk's 1911 carousel, where you still can have your go at grabbing a traditional brass ring – which you can even keep if you're lucky enough to grab!
Santa Cruz's beaches are renowned, and each has a different flavor. There are beaches for surfers, a clothing-optional beach, and several that are family-friendly. Try taking the kids to Sunset State Beach on the weekends to watch the gathering of toy airplane pilots, or head to popular New Brighton State Beach, with its backdrop of pines to bring an even more peaceful atmosphere to the ocean view. Visitors will note that all along Santa Cruz's oceanfront, there's remarkably little commercial development, adding to the unspoiled feel.
As one might expect of a town influenced by both the counterculture of the 60's and 70s and the university vibe of the University of California – Santa Cruz, the town offers surprisingly good restaurants, with many fine vegetarian, vegan, and organic choices for conscious eaters and many ethnic choices as well. Or if a bar crawl is your thing, you'll find Pacific Avenue to be loaded with them, all in close enough proximity that you literally can crawl between. And to be fair, there are a surprising number of excellent coffeehouses in town, almost all with free WiFi.
With all that to offer, you might wonder why a visitor would need to leave the town or beaches at all. Still, if you do feel the need to get out and look at the trees for awhile, visit the redwoods at Henry Cowell State Park, just a short ways down California Highway 9 from Santa Cruz proper. There you'll find 15 miles of forest trails to help clear your head. Not enough? On the way back, drive through Santa Cruz and all the way to West Cliff Drive, a 2-mile stretch of road that offers some of the best ocean views imaginable, entirely for free.
Photo by Lisa{santacrewsgirl} on flickr