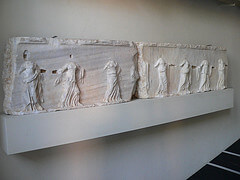 There are many reasons to visit the Archeological Museum in Split, Croatia, known as Arheoloski Muzej Split in Croatian. This is the oldest museum standing in Croatia and offers a large display of archeological objects from prehistoric times. They also offer a large stock of from the period of the Greek colonization of the Adriatic and from the Roman, early christian and early Medieval times.
Another important exhibit at this museum are the 6 stone epitaphs from Salona along with sections on Greek Hellenistic Ceramics, and Roman glass. The museum also offers a wide collection of Antique and Medieval coins along with a large library of about 30,000 books on archeology and history.
The Bellevue Hotel on Splits seafront is only a quick 10 minute walk away from this historic Museum. The walk is a great scenic walk passing cafés, pastry shops and a park. When you get to the museum the atrium contains their several sculptural monuments. The museum is well laid out and has captions in Croatian and English for the American visitors. This is a great town and a great museum to visit, it's well worth the trip!
Archeological Museum address and hours
Archeological Museum
Zrinsko - Frankopanska 25
21000 Split
Croatia
June – September
- Monday – Saturday: 9:00 a.m. – 2:00 p.m. and 4:00 p.m. – 8:00 p.m.
- Sunday closed
October – May
- Monday – Friday: 9:00 a.m. – 2:00 p.m. and 4:00 p.m. – 8:00 p.m.
- Saturday: 9:00 a.m. – 2:00 p.m.
- Sunday closed
Advertisements:



Photo by Troels Myrup on flickr
You should follow me on twitter here.