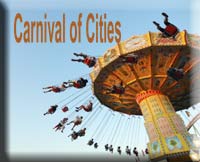 Welcome to the first Carnival of Cities for 2010. Last time, the carnival was hosted by Caitlin over at Roaming Tales. This edition sports a wide range of topics from a lot of cool bloggers, many which are taking part for the first time and it's a real bumper volume today. Seeing as I live in London, I'm kicking this off with European cities.
Cities in Europe
Jenn finds a novel way to explore Stockholm, by climbing around on the roofs of some historic buildings in the Old Town section. Marilyn Terrell for Jenn Blatty presents Stockholm's Rooftop Tours - Intelligent Travel Blog posted at Intelligent Travel Blog.
Mark Sukhija presents Rapperswil - a brief history posted at MarksTravelNotes.com.
Jim & Martha visit London and writes about A Few Days in London - The British Museum posted at Wanderlust Journey.
Keith Kellett presents The Monkey, the Frog and the Astronaut posted at Travelrat's Travels. I've been to Salamanca myself, and I did notice
Cities in the Americas
Angela Gaitaniella asks if Winter in Pittsburgh is the Best or Worst? posted at The Burgh, Exposed.
Skier presents A Weekend in Aspen: What Makes Skiing So Great? posted at Ski Snowboarder. If you want to get your ski vacation in this winter, better hurry up though as the season will come to a close in a couple of short months.
Here's a 2009 Top Ten list of interesting things to do in Washington, DC. Jon Rochetti presents Top Ten Washington, DC Highlights for 2009 posted at The PlanetEye Traveler.
Watch Me Eat visited Orlando's Confisco Grille at Islands of Adventure posted at Watch Me Eat.
June Tree presents Borrow, Barter, Buy Used: Espousing The Frugal Lifestyle posted at The Digerati Life.
Rob Burress presents Natural Asheville posted at Living in Asheville, North Carolina.
Advertisements:



A list of 15 family-friendly places to add to your San Antonio itinerary, including both well-known and off-beat activities. Sarah V. presents 15 Kid-Friendly Activities in San Antonio posted at Wandering Off.
Glennia Campbell presents Dining in Kaua'i: 2010 Edition posted at The Silent "I".
Take a great nature walk and learn about "the largest antebellum complexes in Northwest Florida." Jennifer presents Arcadia Mill posted at Pensacola with Kids.
Dominique King presents Art Institute of Chicago expansion makes "second city" museum the nation's second largest - Midwest Guest posted at Midwest Guest. Dominique says: Architect Renzo Piano envisioned Griffin Court in the Art Institute of Chicago's new modern wing as an extension of the neighboring Millennium Park. Did he succeed in making that a reality? Is this addition worth the multi-million-dollar investment it cost?
Cities in Asia
Claudine presents Tips and Advice for Moving to Busan, South Korea posted at Korea-Diva.
TSW presents Best Cheap Eats Around Tulsa, Oklahoma posted at The Smarter Wallet.
Arun tells Intelligent Travel readers what's great about Bangalore, in the I Heart My City series. Marilyn Terrell for Arun Bhat presents I Heart My City: Arun's Bangalore - Intelligent Travel Blog posted at Intelligent Travel Blog.
About the carnival
Please note, the Carnival of Cities is a blog carnival for posts about any single city (or good-size town). I have excluded posts that are about general travel and I have also limited blogs to one post per carnival. The Carnival of Cities is hosted by different blogs but its permanent home is with its founder Sheila Scarborough at Family Travel Guide. If you want to take part in the next issue, see the carnival home page and submit your post on the submission page. The next carnival is on January 27 over at The Silent I.
To all the participating bloggers, thank you and don't forget to promote this post!
You should follow me on twitter here.