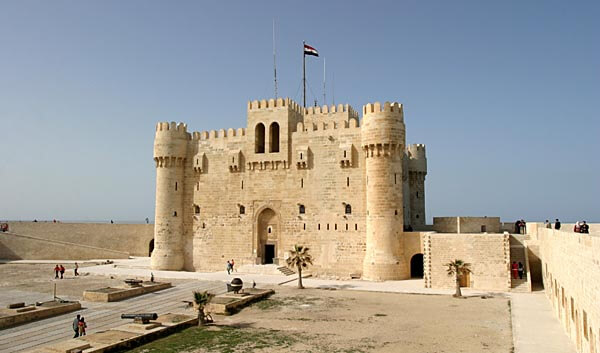 The Citadel of Quaitbay, or Quaitbay Fortress, was built to defend one of the most famous and intriguing cities of the world. Alexandria, Egypt, was the traditional city of knowledge, the home of the most famous library in the world, and the site of the renowned Lighthouse of Alexandria, one of the Seven Wonders of the World.
Built by El Sultan Al Ashraf Qaitbay in 1480, the fortress actually sits on the very site where the lighthouse once stood, and was built on the harbor in a position where it could easily be utilized to defend the city. After 1883, the fortress was badly neglected, but was restored in the 20th century. It is open to the public and includes a small museum. Visitors to the Fortress might be interested to know that some of the stones used to build the fort came from the lighthouse itself.
Alexandria is a fascinating city full of historic sites such as the Roman Baths, The Catechetical School of Alexandria, founded in the first century AD, and the Bibliotheca Alexandria, a learning center and library built to commemorate the magnificent library that was destroyed by fire during the Roman invasion. Visitors to the Fortress and to the rest of this impressive and historically important city will find an endless list of new experiences and unforgettable sights that they will remember all their lives.
Citadel of Quaitbay address and hours
Advertisements:



Quaitbay Citadel
Situated on the entrance to Alexandria 's eastern harbor where the place was exact of the famous Lighthouse.
Opening hours from 9:00 am to 4:00 pm during working days.
Photo by Templar1307 on flickr
You should follow me on twitter here.