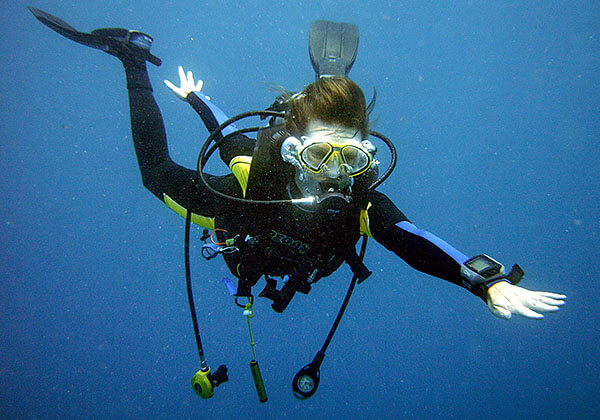 As you catch the ferry (speed boat) across from Kuala Besut you instantly notice the clear blue water and the marine life that is around you; from jumping fish, turtles and dolphins. After you have made the 45 minute ride the boat starts dropping people off at the different resorts on the islands, so don't be alarmed when you're not getting off first.
There is no shortage of dive shops in the Perhentian Islands and all are easy enough to find and you can find reviews for most of them on the internet before getting there.
Dive sites around the Perhentians range from the easy for the people just starting there open water courses to the more advanced with shipwreck diving in deep water and strong currents.
There is something for everyone to enjoy here whether you like to see big schools of brightly coloured fish, corals, bigger fish, macro life or the massive whale sharks that are known to swing by from time to time in this area. Turtles are also a main point of attraction for many divers in this region as they can be spotted at many dive sites around here.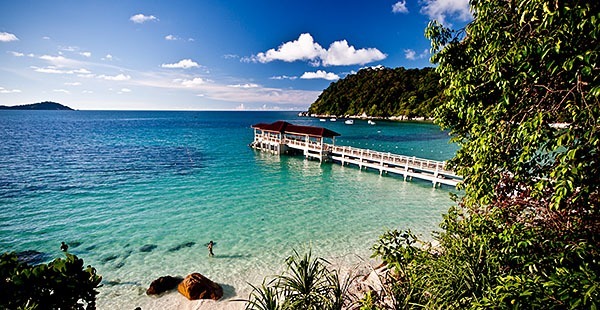 Getting to the islands
If you coming from Kuala Lumpur you can either fly to Kota Bharu that will cost no more than $50 on the day and is cheaper if you book in advance. From there it's a taxi to Kuala Besut, there are places at the airport that do a combined taxi and ferry ticket and it's reasonably priced.
Or you can get the bus. The buses leave twice a day from Kuala Lumpur at 9am and 9pm and takes 8 hours to arrive at the ferry terminal. However it should be noted that the ferry to islands stops at 5pm, so plan your trip out with that in mind.  
Equipment
If you have your own equipment you will be more than welcome to use it here, but all dive shops have equipment that you can rent. All equipment is well serviced, if not new and the cost is generally incorporated in the cost of your dive. There are specialist courses available as well from most dive shops on the islands.
Guides or instructors
Advertisements:



With the vast amount of dive shops around the islands there is a fair chance there is going to be someone that speaks your native language if you prefer not a native English speaker.  The majority of dive shops are on the internet so you can email them to ask what languages they do cater for before booking any scuba courses. Most hire western staff for the shops so you will not have to worry about understanding instructions when diving etc.
Prices
Malaysia isn't a cheap country and the exchange rate isn't as good as other Asian countries, but it is still cheaper than diving in Australia for example. The average dive will cost you around $20 dollars with everything included, there can be extras for equipment such as when you are doing a night dives, so watch out for these.
If you are interested in getting your PADI open water certification or more advanced courses it is better to speak to each shop and choose the one that suits your level and specialties.
You should follow me on twitter here.