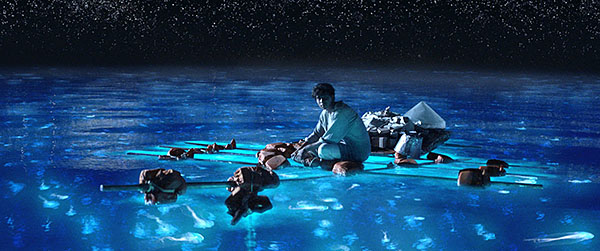 We all remember the mind blowing scenes from the film 'The Beach' filmed on Koh Phi-Phi in Thailand, when Leonardo DiCaprico has a stolen kiss with his best mate's Mrs under the water surrounded by fluorescent plankton. The ease of kissing underwater whilst romantically entwined with your other half is significantly exaggerated by the film – but the beauty and magnificence of the fluorescent plankton is surprisingly not.
When confronted with such an amazing and bizarre phenomenon right in front of your very eyes, it really does take your breath away. Glowing in a ghostly lime green and blue light when disturbed, you just need the right conditions and the knowledge on where to look for it, to witness one of the ocean's most weird and wonderful secrets.
Where to see it?
Advertisements:



There are a few places in South East Asia where you can spot the infamous 'glow in the dark plankton'. In Thailand you can go to most of its southern islands such as Koh Phi-Phi, Koh Tao and Koh Lanta. And in Cambodia, you can see the plankton in the waters of the islands Koh Rong, Koh Russeii and off the shores of Kampot.
When to see it?
You can only see the fluorescent plankton at night and its better spotted when there is no light population from other sources such as bars and restaurants on the beach etc. Also if it has been a dry day and the waters have been calm, the plankton will have had chance to come together more in concentrated groups making them more visible and amazing to watch.
Try to aim for as late as you can for a night swim with the plankton and on a day where the sea has been calm and not rained upon.

Any dangers?
The fluorescent plankton itself can't hurt you, as much as you flail around and gasp at its awe inspiring beauty. But, depending on where you go there are other dangers that come with night swimming that need to be taken into account.
For example, places with a high jellyfish population warn you to not swim too far out at night but to take a boat out with one of the local fishermen, if you want to explore further. You'll still get to see the fluorescent plankton just not swim with it. Best thing to do would be to speak with the locals and tour groups of where you are staying, to get clued up on the other nocturnal marine life you may encounter.
It is always recommended that you go in groups and never alone when night swimming. This ensures if something does go wrong you can get help as soon as possible. And of course, make sure you always have a torch with you so you can make your way back to your hotel afterwards!
If you do find yourself holidaying in the aforementioned fluorescent plankton rich areas, don't miss the once in a lifetime opportunity to see one of most wondrous and freakiest spectacles of the natural world... you will definitely not be left disappointed!
You should follow me on twitter here.