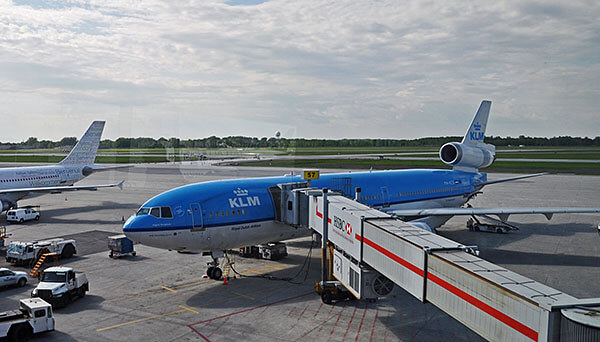 Earlier this month, I had my first flight with KLM as a guest for the airline's Schiphol blogger trip. I, together with Peter from Dinkyguide.com, Geoff from Thetraveltrunk.net, Sarah Tucker, and Vivien Devlin, got on our respective KLM flights at a very early hour to go to Amsterdam's Schiphol airport to learn more about KLM's main hub and the airport itself.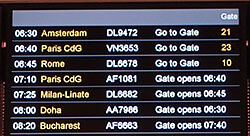 Not only was this my first time with KLM, but also a first to be on the first flight out of the day at 6.30 AM from Heathrow's Terminal 4. I've rarely been so grateful to see a Costa Coffee! Here's the flight experience:
Checking in with KLM
I'm very much in favour of using online check-in for my flights as it can drastically cut down on the time I spend in lines at the airport. Especially like on a day such as this, where I'm using carry-on luggage only. Certain airports have very poor baggage drop-off facilities, which can take as long as normal check-in anyway: Thankfully, Heathrow T4 is OK in this regard and you'll save time.
The online check-in was straightforward, requiring only the reservation number and my last name to access the flight details. After submitting a few details, and selecting my outbound seat, I could quickly print my boarding pass at home to take to the airport. There was a slight moment of confusion as both flights came out on one boarding pass, but I believe this is due to me going both out and returning on the same day.
There's one thing that could be improved about the process: Online check-in is only available from 30 hours before departure. So if you're away from a printer (like when travelling), it could be very complicated to use online check-in. There is an option to send your boarding pass to your phone, but I have mixed experiences with this working well with the security screening and baggage drop-off. That, and if you run out of battery, it'll quickly get a bit messy at the airport.
Being able to check in online at least 7 days beforehand would be better.
Boarding the plane
The morning's flight boarding was via skygate, which I much prefer to a bus shuttle to the plane. It's quicker and much less stressful.
In the afternoon, returning from Schiphol, there was a bus shuttle however. It did run quite timely, so not a major issue as I was at the gate in good time for once.
These were full flights both ways, so boarding wasn't very quick. The cabin staff was quite helpful though, and smoothed things out as much as they could. I noticed several people being assisted each time, and both flights also had unaccompanied minors flying. Kids flying on their own can be a major disruption to the boarding and disembarking process for airlines, as they require more attention, and potentially also moving single male passengers to non-adjacent seats.
Food and entertainment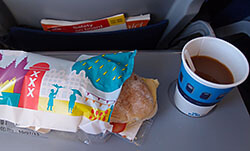 This being a short hop between London and Amsterdam, there wasn't much need for or provision of either food nor entertainment. However, breakfast was offered for free (always a good thing about legacy airlines) and there were hot and cold drinks. On the return flight, snacks and drinks were given out.
These small planes rarely have in-seat entertainment systems, and this was the case on this airframe as well. However, the Holland Herald in-flight magazine by KLM was dropped in each seat pocket.
I have to say that the KLM flight magazine was a pleasant surprise. I'm mostly used to American Airlines and British Airways when I fly a full service airline and both of their magazines are very bland. The Holland Herald has a bit more panache. In the July issue, there were travel articles on Kiev, Ukraine's capital; urban beekeeping; the best beaches in Europe; the big data revolution; and a few design and photography features. And yes, there were a few charming photos of bicycles, fitting for a Dutch airline magazine.
The flight
Taxiing out to the runway took a little while at Heathrow, but the boarding to take-off time was very quick at Schiphol.
With both planes being quite well maintained, the flights were very comfortable and quiet. This is always a bonus as I value a low sound floor to be able to relax. Much quieter than easyJet or Ryanair and the added luxury of no silly attempts to sell scratch cards to passengers!
The maintenance regiment was also noticeable in the cabin fittings, as everything was in very good shape. Maybe I've gotten too used to flying with American legacy airliners, but nice crisp seat fabrics rather than lots of frayed edges does lend some comfort in the plane's airworthiness. Well done on KLM for this.
KLM flight takeaways
I thought this experience was really quite good. And as a member of SkyTeam, there are lots of opportunities to earn miles if you're usually flying with another SkyTeam airline, such as Delta.
Not only is it so much more convenient to use a major airport like Heathrow or Schiphol, but having most services included in the basic price is good as well.
I have no reservations when recommending KLM for your flights.
Advertisements:



Photos by Doug (1) on flickr and Jack Norell (2, 3).
You should follow me on twitter here.