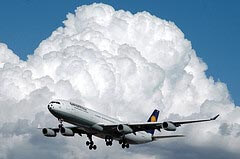 New research from Which? Travel reveals the best days and times to travel to cut the cost of flying.
For those traveling around Europe, a piece of new research from Which? Travel can help save money off airfares.
Advertisements:



What they found is that travel during the week, specifically Tuesday through Thursday, is cheaper than the weekend days.This makes sense as Mondays and Fridays are busy with business travelers, and weekend days are usually more convenient for leisure travelers.
The research in numbers
For this research, Which? Travel, looked at 1,174 flights during August. The flights were to both have outbound and return legs in the September time period. As a traveler, the researchers consistently used a single traveler with a single checked item of baggage.
The flight paths analyzed were easyJet connecting Gatwick Airport and Alicante, Spain; British Airways connecting London Heathrow and Barcelona, Spain; and Ryanair connecting London Stansted and Dublin, Ireland.
The savings in numbers
Consistently, Tuesdays were the cheapest days to fly out across these 3 airlines. For example, compared to a Friday, the Tuesday flight was £28 cheaper on average, saving the traveler 35% off the airfare. The same pattern was found with return flights.
Also, it was found that the most expense return flight days were Sundays. Again, this makes sense as most leisure travelers would need to be back at work on Monday. An easyJet example picking a return flight from Alicante to Gatwick would cost £56 more on a Sunday than a Thursday, equal to an increase of 45%.
For a family, there are in other words savings to be found of around £336 for return flights, £112 of that from picking the right date to fly out and £224 by timing the return day.
Pick day and time for max savings
Choosing the right flight times on the right days maximizes the savings. Take easyJet: Their most expensive outbound flights were from 5:45 AM to 11:50 AM. In contrast, British Airways had 86% of their cheapest flights leaving on slots before a very early 7:30 AM. So the outward leg varies between airlines, if you're looking for the best savings.
Coming back home is a little easier, as both airlines were found to offer their cheapest return flights during the evening.
The perfect flight
Maybe we should all start scheduling our vacations from Tuesday to Tuesday instead of the more common Monday through Friday. Because those seem to be the ideal travel days.
While the research only covered 3 airlines and flight paths, it's reasonable to expect the same patterns are repeated across many airlines. This is since pricing is dependent on traveler habits. Of course, if enough of us, knowing this, change our habits the prices are likely to change accordingly.
For now, book flights on Tuesdays, Wednesdays, and Thursdays when you can. In the long term, figure out which days are the busiest at the airport, and simply pick flights on the other days.
Photo by caribb on flickr
You should follow me on twitter here.