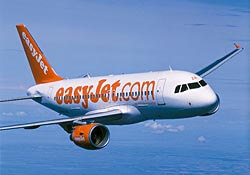 The history of budget air travel can be traced back to Southwest Airlines in Dallas, Texas in the Seventies, but it was not until the Nineties that deregulation of the European market allowed low-cost pioneers Ryanair and easyJet to really take off.
Ryanair was the first airline in Europe to adopt the Southwest Airlines model and nowadays offers flights to 150 European destinations. In company with easyJet, Ryanair was responsible for the opening up of London Stansted Airport, which had previously been neglected by major carriers. As an example, a return flight from London Stansted to Girona (Barcelona) with Ryanair is currently advertised at £76.55, including online check-in and airport taxes. In common with other budget carriers, however, an administration fee of £5 per passenger per one way flight for booking and processing payments is not included and neither is a checked baggage fee of £15 per bag per one way flight.
Budget air passengers commonly want to pay for a flight by credit card and check in at least one bag, so it is easy to see how the cost of "budget" air travel can escalate. Nevertheless, if passengers are flexible with flight times or prepared to book flights well in advance, bargains can still be found. Food and drink is not normally provided free of charge and onboard prices can be quite high, although this obviously less of a problem on short-haul flights.
easyJet, founded by the colourful Stelios Haji-Ioannou and headquartered at London Luton Airport, is Ryanair's major rival in the European budget air travel market. easyJet also flies from London Stansted to Barcelona, but actually to Barcelona Airport, not Girona Airport, which is 65 miles or 90 minutes' drive away from Barcelona city centre. The cheapest return flight available in the near future costs £135.83, inclusive of airport taxes, but once again booking and checked baggage fees are not included.
European budget airlines (and airlines in general) have recently been criticised for their performance during the disruption caused by volcanic eruption beneath the Eyjafjallajokull glacier in Iceland, but if you are looking for, say, cheap flights to Charles De Gaulle Airport, you should not been discouraged. The airport is just 14 miles or 50 minutes' drive from the centre of "The City of Love", Paris and is well served by several budget carriers including easyJet and smaller carriers, such as BMIbaby (at a cost of £178.98 return, including taxes and charges, from East Midlands Airport) and the Leeds-based carrier Jet2 (at a base fare of £68.98 return, but rising to £148.96 once taxes and charges are included, from Leeds Bradford Airport).
Advertisements:



This is a guest post from James Parker who writes for Fly.co.uk about flights, travel destinations, and current deals.
You should follow me on twitter here.