January roundup of travel articles and sites I'm hooked on at the moment. Please do send me tips for other reading materials in the comments below or via email at jack@eyeflare.com.
U.S. railroads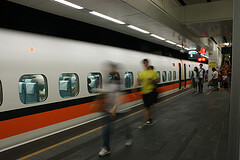 The U.S. is further along the tracks to high-speed rail after President Obama put his boxcar behind that locomotive:
[F]rom the first railroads to the Interstate Highway System, our nation has always been built to compete. There's no reason Europe or China should have the fastest trains or the new factories that manufacture clean-energy products.
More over at World Hum. And speaking of rail, Douglas Rogers writes about traveling across America on the rails over at The Guardian. I enjoy rail travel, and I've got a roundup of train companies around the world.
Photo by absentmindedprof on flickr
More fees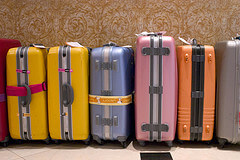 Flying With Fish has pointed out yet one more reason that airlines like to add baggage fees: They're not taxable! Meaning the airlines are dodging a tax bill of a cool $26 million each, yearly, on average. This definitely means they're not going away anytime soon, and are likely to get even higher.
Of course, they already have. American Airlines just raised theirs to $25 for the first bag, each way, and others are charging even more. Much friendlier Southwest Airlines still give you free bag allowances, so go ahead and book with them instead. There's been a lot of chatter around airline baggage fees for months, so I'm not going to say any more here.
On the topic of American Airlines, there seems to be some indication they're considering adding a fee to booking awards travel via their website. This would be horrible news indeed (and I'd better start using my miles...). The Wandering Aramean has more info.
Photo by nhanusek on flickr
Mountains, mountains, everywhere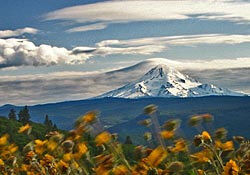 Matador Trips has a gorgeous post up with photos from the 17 most recognizable mountain peaks in the world. My favorite photo in the roundup is certainly Mt. Hood in Oregon, pictured on the right.
Some other top peaks (sorry, bad pun) are Mont Blanc in France, Huangshan in China, and Mt Fuji in Japan.
Photo by Misserion on flickr
Free iPhone apps for Londoners
For those of you who live in London, and have an iPhone, A Singaporean in London has a great roundup of 5 free apps that can make live in London much easier. There's real value for those visiting London as well.
Dealing with unwanted strangers
Sometimes strangers are friends you haven't met yet. Unfortunately, at other times they're dangerous or just unwanted. Brave New Traveler has a great post on tactics for dealing with the latter ones.
Link love
Advertisements:



Want to be highlighted?
Send me an email on jack@eyeflare.com with your best travel article and I will consider it.
You should follow me on twitter here.