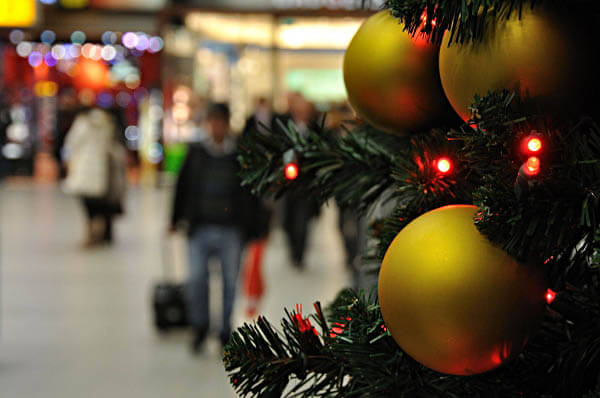 Holiday travel gets very busy, and problems happen more often than not. It may be something as trivial as a delayed train leaving for the airport, to an airport shutting down due to weather when you're trying to make a connection, completely stranding you. As always, it pays to be prepared, buy travel insurance, and pack the patience.
These tips can help you survive traveling during the upcoming holiday season.
Pack light
The less you carry, the easier your trip will be. While this is always true, it's even more so during the holidays. There are more people traveling than at any other time during the year and many of those travelers pack everything they own. Or so it seems. Overhead bins are bursting, train carriages have suitcases stacked in the aisles, and car roof boxes are stacked three high.
Be very patient
Everything will be slower in the holiday season. That goes for check-in desks, luggage carousels, ticketing lineshttp://www.eyeflare.com. you name it. Bring your patience with you and try to keep a positive attitude. That will help both you and everyone around as each and every traveler feels stressed out about joining (or getting away from!) their families during these dates.
And please be patient with the travel professionals who are doing their best to help you get to your destination as well. They do get a lot of grief when tempers flare due to the inevitable jinxes. Don't add to it.
Know your travel options
Advertisements:



It can often pay off to look at what alternative transport options there are. In the USA, flying is commonly the only realistic option, but those who live in the North East can often go by train, and driving could even be feasible at times.
There are also trade-offs with different airports, should you have several close by. A regional airport is often faster for getting to your flight (and parking is cheaper to boot), but at the expense of having fewer options of direct flights.
Those who are based in Europe are often much better off opting for the train rather than flying during the holidays. Weather delays are less common, it's far more relaxed, and costs are similar if bought in advance (last minute is in most cases cheaper). However, travel times may be longer.
For more local travel, bus services are less costly and often speedy as well.
Remember Secure Flight requirements
These principally require that your name is matching with your identification completely. This means your names, including middle name, needs to be spelled correctly and your date of birth must be right. More about secure flight.
Check-in online
A massive time saver this, especially if you're flying with hand luggage only. Not only will you skip the usually gargantuan line to the counter, but some airlines will even let you check in with your cell phone. The boarding pass will be stored on your handset and you show it at security and at the gate. You're less likely to forget to bring your phone than print out and pack the paper boarding pass. However, some airports may have issues with processing smartphone boarding passes, especially internationally.
Prepare for the security line
This is the biggest bottleneck in any airport during the holidays. A little pre-planning can vastly cut down your individual time (unfortunately, it still won't help speed up the group in front of you). Keep your ID and boarding passes in the same pouch or pocket, and your liquids, medication and other red flag items in an easily accessible compartment of your carry-on bag. Always be prepared to take off your shoes, belt and/or large metal jewelry. Your laptop needs a separate bin (a TSA-approved bag helps too), and you best find a new home for the loose change in your pocket.
Consider an upgrade to premium coach
If you can afford it, an upgrade to the premium part of the coach cabin is worth it during holiday travel. Not only will you board in the first group of passengers, you'll also get room for your carry-on in the bins. You'll avoid a gate-check of your luggage because the bins are all full, get a better seat, and board / disembark quicker.
Take an empty water bottle
You can carry empty bottles through security without any problems. Just make sure the outside is dry before packing it, and stick it well inside your bags as TSA sometimes get carried away checking these if visible. Then fill it at a water fountain in the gate-side area to save $2-3 per flight.
Don't wrap your gifts
Packages are often inspected during security checks when flying, and your beautifully wrapped gifts will be ripped open. Either get wrapping materials when you arrive, or play it off as a minimalist and eco-conscious trend this year and skip the wrapping!
Ship bulky items or large suitcases
With baggage fees rife, and the hassle of carrying bags through congested airports, shipping luggage ahead makes more sense than ever. FedEx and UPS are good options, and the Postal Service takes longer but costs less. There's the added bonus that while airlines lose more bags the busier they get, couriers rarely if ever do. And they have insurance included too.
Photo by quadriman on flickr
You should follow me on twitter here.