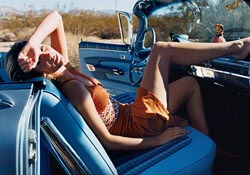 Is that great American tradition - The Road Trip - be in danger? With gas hitting $4 per gallon and only rising, it certainly is costing more each day. World Hum's Eva Holland shares her article The $4 Gallon Survival Guide.
If you're curious about exploring the islands of South Thailand, Matador Trips has some great ideas in Backpacker's Secret Guide: Islands Of Trang, Thailand. Of course, the tips aren't that secret now, so better go before everyone else does too.
Could you actually end up being in control while on an airliner? AdAge has an interesting article about if Could Interactive Media Help Save the Airline Industry?
In a trend that's set to continue, American Airlines eventually succumbed to the temptation of charging for the second checked bag on their flights. That makes them join Delta Airlines and United Airlines in moves designed to stem the mounting losses for American carriers. We're all getting used to pay for anything that's not the actual seat on the flight, so this was inevitable. Especially as Air Canada even charges at least $25 for decent customer service! More at Gadling.
Benet Wilson at The Cranky Flier writes about some of the more outrageous things people do in airports. Check out Benet Wilson on Security Fun.
Justin Landrum has an exciting experience in a Japanese jail in Jail in Japan: Tales of Pocket Knives, Bathtub Antics, and Utter Cluelessness. From the article: "I am being ordered to strip down to my birthday suit. Every experience is a good experience, I tell myself, trying to believe my traveling credence with the same passion it usually warrants."
Four thousand American soldiers have died in Iraq. This is the true story of how one of them came home. Read The Things That Carried Him.
If you're looking for a bag that both satisfy your need for a cool bag and your eco-friendly credentials, check out Ecoist's bag range. They make bag out of purses from candy wrappers, catalogs, and New York City sub­way maps.
Some eye candy from Trifter.com with 14 Most Amazing Temples in the World 1 and 14 Most Amazing Temples in the World 2.
For more eco-friendly things, Discover Magazine shares 20 Things You Didn't Know About... Recycling.
Very good, and very frightening, pictures of our childhood horrors. Don't visit if you want to sleep well tonight! View Childhood Fears...
Most popular on eyeflare.com
Share your sites
Advertisements:



If you have a great site or article you'd like to share next week, drop it in the comments below and it might get promoted here.
You should follow me on twitter here.