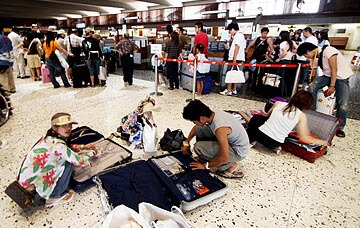 More great articles from around the travel sphere. Best of all is that we now get to have two carry-ons again traveling to and from England! This issue is jam-packed with lots of articles you really want to read, such as Ubertramp's 3-part series on not being overcharged while abroad.
From other travel sites
Good news for anyone traveling to or from a United Kingdom airport - 19 airports will allow two carry-on bags beginning 7 January 2008. Maybe this is the start of a trend in making 'security' regulations more flier-friendly again? More at The CrankyFlier.
Advertisements:



Ubertramp shares some very very useful tips about avoid being overcharged while traveling abroad. This is part 2, also check out part 1 and part 3. Cheers Nathan!
TripAdvisor has released a list of their funniest travel comments of 2007. Ponder their number 4: Deep Thoughts "Time could be spent pondering over the meaning of some of the many safety signs around the complex. Out of the several we managed to identify, the two we found to be of greatest use were 1. Not to step on any crocodiles whilst bare foot, and 2. No ugly, or spotty children to frequent the pool." The full list is at TripAdvisor.
Solo travelers make up 1 in 10 of leisure travelers. It used to be difficult to find friends while on the road, but options are increasing all the time now. "As travel companies look for new ways to expand business, they are increasingly courting solo travelers. Roughly one in 10 leisure travelers hits the road alone, according to the most recent data from the Travel Industry Association, and more travel companies, from specialty tour operators to individual resorts, are creating packages that cater to those customers." says the Chicago Tribune in an article on solo travel.
In Traveling Stories Magazine, Jon Siker writes about being Trapped: Just having moved to Vancouver during a garbage collection strike, "Outside, a pile of fifty-one days worth of uncollected garbage dominated the front yard.  It too collected flies.  My head pounded from the night before.  I had just moved in, and everything about the house seemed dirty and out of place."
With my love of street food, I came across Travel and Leisure's photo gallery of "The World's Strangest Street Food." How about Fried Water Beetles or Stinky Tofu?
Staff at a hotel in Scotland have barricaded themselves into a room to protest losing their jobs. Food is currently airlifted (via a rope...) to their room! The two staffers were lodging at the hotel and fired just before Xmas - losing both their wages owned and their homes! Definitely a vote against hotel company Oxford Hotels and Inns. More at BBC.co.uk.
What kind of backpacker are you? "The gap year beer-guzzler" or "The champagne backpacker"? Lonely Planet has published a list of the different types of backpackers. Find out your type now.
Weird and wonderful things
Apparently, moving house by bicycle is getting more popular. Treehugger.com tells more about Bike Moves.
Jennifer Strunge makes some very cool Cotton Monster dolls. Probably a better gift for the more, ehm, bright kids of your acquaintance!
You should follow me on twitter here.