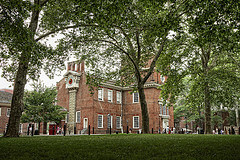 Independence National Historical Park in downtown Philadelphia has rightly been dubbed "America's most historic square mile." There are few places in our country where so such much history has been packed into a mere 55 acre site, and you should not leave the city of brotherly love without spending at least an afternoon exploring it.
The main building in the park is Independence Hall, a UNESCO World Heritage Site. If the walls of this handsome brick structure could talk, they might tell you of the debates held there by Benjamin Franklin, Thomas Jefferson, and the other founding fathers over the wording on the Declaration of Independence and the Constitution. Much of the work of those founders happened in this meeting place, and you can almost hear the echoes of their voices when you enter.
Advertisements:



Across the street, you'll find another famous symbol of our country: the Liberty Bell. Many historians believe it was one of the bells run at the first reading of the Declaration of Independence, which took place in front of Independence Hall on July 8, 1776.
After viewing the mighty bell, take some time to stroll around some of the other buildings that make up the park, including the First Bank of the United States, which was chartered by Congress; the United States Postal Service Museum; and the home of Benjamin Franklin, one of our more intriguing founding fathers. If you've had your fill of independence-related locations, you'll also find the Edgar Allen Poe National Historic Site and the Thaddeus Kosciuszko National Memorial within the twenty blocks that encompass the park, along with a number of other attractions.
You'll want to review the website carefully before you go to maximize your trip. One plus: admission to all park sites is free, although tickets are required for tours of Independence Hall.
Independence National Historical Park location
Independence National Historical Park
525 Market Street
Philadelphia, PA 19106
Photo by IceNineJon on flickr
You should follow me on twitter here.