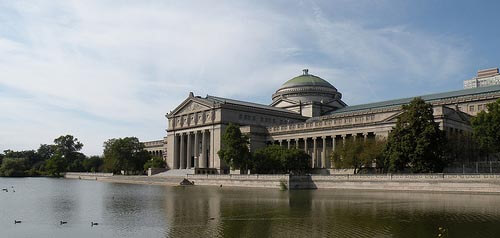 When you want to head for the beach in the middle of the big city, go to Jackson Park in Chicago. You can have all the arts and culture of the urban atmosphere along with beach days. That's because part of Jackson Park fronts onto Lake Michigan, and locals go there during the summer to sun and swim. The whole park is located on South Stoney Island Avenue on the south side of Chicago, and the beach house and pavilion is on 63rd Street.
There's lots more to explore in this 500 acre park designed in part by the man who designed New York's Central Park. There's a golf course and lots of areas to walk. It's also interesting to remember that Jackson Park was the site of the World's Fair in 1893. Most of the buildings from that era have been destroyed, but you can go to the Museum of Science and Industry which is housed in one of the historic buildings that still remain.
Advertisements:



There's a Japanese walking garden, the Osaka Garden, that remains from that time, too.
The gardens and the lagoons have been refurbished so that the park is a beautiful place to feel like you're in nature and to see various varieties of wildlife and birds that gather there. There are two walking trails, so while you're visiting Chicago for it's urban vibe, be sure to check out its natural beauty at Jackson Park.
Photo credit: Chicago Man on flickr
You should follow me on twitter here.