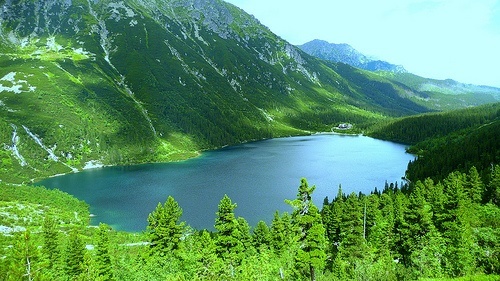 You may not think of mountains when you think of Poland, but there's a beautiful national park there set in a picturesque alpine area. It's the most visited national park in the whole country and one of Poland's most popular tourist areas. Tatra National Park is located in the Tatra Mountains of southern Poland. The access town into the park is Zakopane.
Advertisements:



Carved from state forests in the mid-twentieth century, this park has everything you'd expect from a natural wonderland. There are trails, meadows, mountain views, and lots of wildlife. You can sometimes catch sight of bear, lynx, and wolves. Look above and you can find falcons and eagles. The plant life changes as you go up in altitude from lush trees, to grassland, to alpine terrain. In addition to wildlife programs, the park also runs programs to give you an insight into the lives of the mountain people who still live here. They have their own folk culture of food and music that will fascinate you.
Photo credit: lanchutt @ flickr
You should follow me on twitter here.