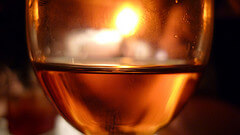 Each year people in Bardstown, Kentucky put on their suits and ties and mix and mingle at the Kentucky Bourbon Festival. At about $150 a ticket, participants begin the night by sampling bourbon from a variety of distilleries from the area. There also Master Distillers available that can answer your questions.
Advertisements:



Following the bourbon tasting, attendees are invited to a sit down meal followed by dancing. The event usually takes place in September and there are various bourbon related events leading up to the festival. If you plan on being in Lexington next fall, then you should consider attending this unique event. There's also a 'sampler' event taking place in April, should you be nearby.
Bourbon has been made in Bardstown since 1776, and going for a tasting taps into that tradition. The town is now knows as the Bourbon capital of the world. The Kentucky Bourbon Festival gives you a 6 full days of smooth Bourbon, delicious food, and great entertainment, with a healthy dose of Kentucky hospitality thrown in for good measure. From black tie galas to historical tours, there is something for all ages and interests. It's a wonderful six-day event full of activities for the whole family.
Photo by vissago on flickr
You should follow me on twitter here.