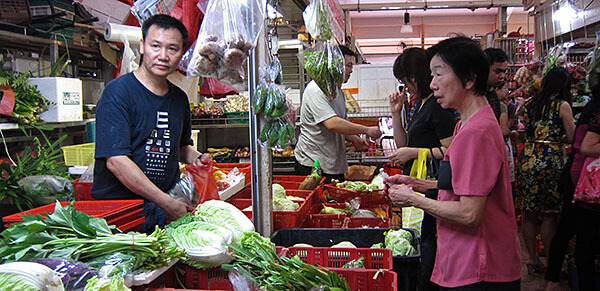 Singapore's Kreta Ayer Wet Market has been named one of the best fresh markets in the world by the international news network CNN and has become a must-stop for locals and tourists as well. A 'Wet Market' is a fresh fish and seafood market and the name comes from the floor being washed regularly, meaning is usually wet!
For those worried about going to a fresh market, Kreta Ayer Wet Market carefully follows in accordance with Singapore's hygiene standards and the cleanliness factor gives the market its name. The market's floor is washed regularly to follow hygiene standards and gains its name "Wet Market" from the work of cleanliness toward protecting the consumer.
The Kreta Ayer market is located in Chinatown, locals and tourists alike come to the market for a variety of food products, though mainly seafood and fish, though there's everything from vegetables to pork chops available. Tourists on their first trip to the market can find a medley of Asian vegetables while locals go to the market to pick up everyday foods from bok choi to choi som. As one of the top markets in the world, Kreta Ayer Wet Market also offers consumers a walk on the wilder side of food with a selection of live frogs, snakes, eels and turtles along with preserved eggs.
For those that are not into the meat scene, Kreta Ayer Wet Market also has a large variety of tofu products and further veggie options. For the ones that are looking for the medical solution; the market has available Chines herbal remedies in addition to its vast food selection.
The Wet Market draws its name after the oxen-pulled carts that were used to deliver water to the area. For the shopper/tourist that finds him/herself tired after browsing the market, why not take a break in the hawker located on the upstairs concourse. This area offers the a huge range of consumer breakfast and lunch options such a bowl of noodle soup or some other local food specialty.
Kreta Ayer Wet Market location and hours
Located at Kreta Ayer Road and Keong Siak Road, Singapore's Kreta Ayer Wet Market is a necessary stop while visiting Singapore. When planning a visit, stay in a nearby Singapore hotel and plan to get to the market early (around 6 a.m. to beat the crowds). The market closes for the day around 1 pm and is at its busiest right before closing.
Advertisements:



Photo by Su – May on flickr
You should follow me on twitter here.