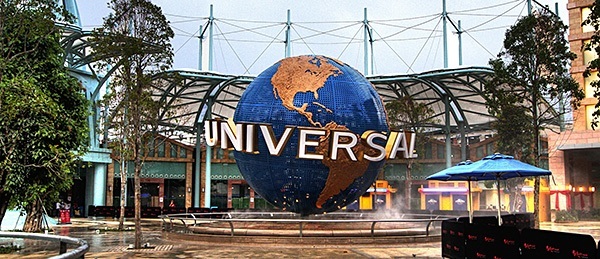 I am sure when you think of Universal Studios you think of Los Angeles, California, or Universal Studios in Orlando. Universal in Singapore is a theme park located at Resorts World Sentosa on Sentosa Island, Singapore. It is Southeast Asia's first movie theme park.
The park is laid out into seven different zones which include Hollywood, New York, Sci-fi City, Ancient Egypt, the Lost World, Far Far Away and Madagascar. Each zone has something different and fun to see and do. For example Hollywood zone you step onto Hollywood Boulevard with its walk of fame and palm trees.
Ancient Egypt has pyramids and obelisks stand fast against the sands of time as you are transported back to 1930's Egypt. Madagascar takes you into a tropical jungle with strange and wonderful animals inspired by the movie "Madagascar". Sci-fi City zone will have you experience the ultimate intergalactic battle of good vs. evil and take you to an ultra modern metropolis.
New York zone has all the classic landmarks, neon lights and scenes known from New York City. Far Far Away zone is inspired by fairy tales, complete with talking donkeys and princesses.
Universal Studios Singapore Hollywood After Hours is also a popular place to shop and dine and is open evening from 7-10 PM.
Who doesn't love a parade! Singapore's Universal studio has its own Hollywood Dreams Parade which goes through five of the seven zones with fourteen intricately detailed floats, special effects and over one hundred performers. It also has a custom musical score and the "Hollywood Dreams" dance song which was composed by Ian Habgood.
On your next trip to Singapore make sure you take in the usual tourist attraction but don't forget to save time to spend at Singapore's Universal Studios.
Universal Studios location
Universal Studios
11 Sentosa East Mall
Singapore 099054
Advertisements:



Photo by w3i_yu on flickr
You should follow me on twitter here.