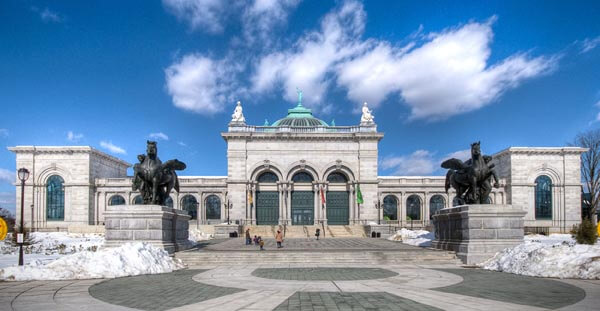 Visitors to Philadelphia should definitely make it a point to see the 1876 Centennial Exposition Memorial Hall, located at East Memorial Hall Drive and the Avenue of the Republic in Fairmount Park. This famous landmark, is an impressive example of neoclassical Beaux-Arts architecture, created by Fairmount Park Chief Engineer Hermann Schwarzmann, as the Centennial Art Gallery for the Centennial Exposition, the first World's Fair in the United States.
Celebrated at the time to honor the 100th anniversary of the signing of the Declaration of Independence, this magnificent building was dedicated by President Ulysses S. Grant, and later served as the Philadelphia's art museum until 1928. At the Exposition in 1876, it was estimated that 10 million visitors viewed this impressive building, which was truly a one of a kind marvel. Unique for its massive size, it is composed entirely of glass, iron, brick, granite, marble, and ornamental plaster. Not only is it completely fireproof, the initial cost of construction was $1.5 million, and both of these features were extremely rare for the time. The statue on top of the massive dome, which reaches 150 ft., is Columbia, a symbol of the United States, and other statues around the building represent commerce, agriculture, navigation, and industry.
Memorial Hall is the sole survivor of the Centennial Exposition that once contained many other large buildings. Throughout its long and colorful history after 1928, it served as a police station, and at one time even contained two swimming pools, before it was taken over by the Fairmount Park Commission.
Today, families will be thrilled with the fact that it is now Philadelphia's, child friendly, Please Touch Museum, designed especially for children 7 and younger. It includes six large exhibit areas, including a 40 ft. representation of the Statue of Liberty arm and torch, and a carousel, as well as examples of over 12,500 historic toys. Visitors will also enjoy the restaurant, the Please Taste Café, and the Kid's Store. This building is a work of art in itself, and children of all ages will be impressed with Memorial Hall.
Memorial Hall address and hours
Memorial Hall, Fairmount Park
4231 Avenue of the Republic
(formerly North Concourse Drive)
Philadelphia, PA 19131
Advertisements:



Please Touch and Memorial Hall are open Monday - Saturday from 9am until 5pm, and on Sunday from 11am to 5pm.
You should follow me on twitter here.