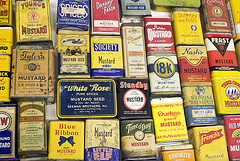 Everyone has toured a museum at sometime in their life, whether it was a history museum, art museum, a zoo or auto museum. How many people have toured a Mustard Museum though? Well when you are in the Madison, Wisconsin area visits the National Mustard Museum on U.S. highway 14.
The Mustard Museum was thought of and founded by Barry Levenson, a former Assistant Attorney General of Wisconsin in 1986. It seems that Barry was a Boston Red Sox fan and he was despondent over the fact his team didn't win the 1986 world series so he was looking for something else to put his time into. Barry said he heard a deep resonant voice as he passed the mustard in an all night grocery store say to him "if you collect us, they will come".
Advertisements:



Barry's collection started with a dozen jars of various types of mustard which he bought then and there. And now he has more than 5,300 types of mustard from more than 60 countries. He also has hundreds of items of mustard memorabilia and has exhibits showing the use of mustard throughout history.
You will find hot mustards, sweet mustards, fruit mustards, hot pepper mustards and spirited mustards. Barry's collection also includes a large variety of French and English types of mustard.
There is a shop on the second floor of the museum which offers free tasting. After trying various types you can purchase your favorite to take home. The museum also offers a mail order service.
The Mustard Museum has been showcased on national TV on the Food Network's program Unwrapped. The next trip you make to a museum make it to the National Mustard Museum in Mount Horeb, Wisconsin.
National Mustard Museum address and hours
National Mustard Museum
7477 Hubbard Avenue
Middleton, WI 53562
Admission is free and the museum is open from 10A.M. to 5 P.M. daily except Easter, Thanksgiving, Christmas and New Year's Day.
Photo by McBeth on flickr
You should follow me on twitter here.