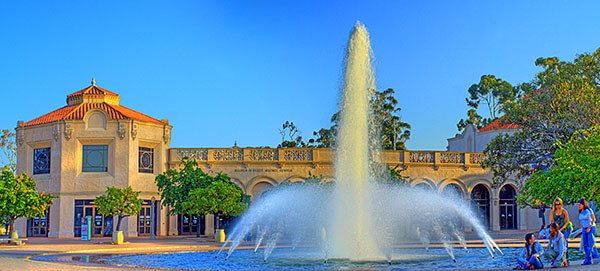 Located in San Diego, California's Balboa Park, the Reuben H. Fleet Science Center inspires people of all ages to understand and enjoy science and technology. The center is named in honor of Major Reuben H. Fleet. He organized pilot training in World War I, developed the first turbo supercharger and the first military parachute, started the first airmail service and bought Wright Brothers Aeronautical and America's first airplane company. By 1943 his company was the largest manufacturer of aircraft, employing over forty thousand people in San Diego.
The Science Center is home to the world's first IMAX Dome Theater, which also offers films in Spanish each month. There are seven exhibition galleries that provide interactive experiences with scientific phenomena.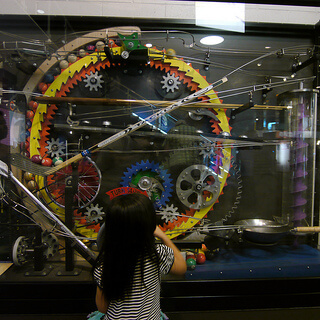 These include an exhibit where visitors can build their own skyscraper or engineer freeform structures with no-connector planks or see the face-morphing that allows people to see what they'll look like in their seventies. Images from the Hubble Space Telescope can be viewed on a large "View Space" screen. Topics such as electricity, magnetism, light and sound can be enjoyed at any of the more than eighty permanent exhibits.
Two Planetarium shows are presented on the first Wednesday of each month in the Dome Theater. These display the San Diego sky and other astronomical topics like the Milky Way and the Summer Solstice. Especially for children there are half-day winter, summer and spring camps, which can be coordinated with other Balboa Park associations so as to make their time at the park a full day.
Advertisements:



The exhibit Kid City is also intended for children under five years of age, with a Book Nook, Factory, Young Explorer Computers and a Grocery Store. The Science Center offers education programs for both the general public and for educators, with workshops, classes and lectures available. The center also has a souvenir shop and visitors can stop to enjoy a snack at the Galileo's Café.
Reuben H. Fleet Science Center address and hours
Reuben H. Fleet Science Center
1875 El Prado
Balboa Park
San Diego, CA 92101
Regular hours open daily from 10 am to 6 pm.
There is an admission fee, with discounts for juniors and seniors.
Photos by Michael Seljos (1) and mliu92 (2) on flickr
You should follow me on twitter here.