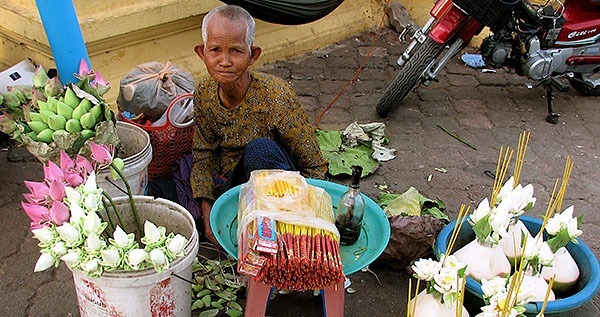 Siem Reap is fast becoming one of the top destinations for backpackers and holidaymakers alike. With its stunning surrounding countryside, ancient lost city ruins, bustling markets and lively nightlife; Siem Reap is an absolute most for anyone visiting Cambodia. 
Where to go in Siem Reap?
Night Bazaars
Fancy picking up a few local paintings or handcrafts? Or maybe a pair of fake Ray Ban sunglasses? From jewellery and clothes, to handcrafted Buddha's and pure silk scarfs - Siem Reap turns into a shopping haven as soon as the sun goes down. And don't be afraid to haggle down the price of what you want either... the locals love it!
Four Way Pub Street and live music
Four Way Pub Street... need I say more?! With many bars doing happy hour prices on the national draught beer "Angkor" for 25 cents, it's not hard to see why 'Pub Street' gets a bit lively later on in the evening!  
Siem Reap is renowned for its live music, which you'll be able to catch every night of the week, in the centre of town. Cover bands, acoustic acts both Cambodian and Western can be heard all around you as you stroll through the Pub Street district part of town.
Angkor Wat
Angkor Wat is an ancient wonder all its own with parts of it dating back as far as the 8th century. This old religious city was inhabited by the Khmer people who built hundreds of temples in honour of their Buddhist and Hindu God's. A simply must for anyone wanting to soak up the history of this truly awe-inspiring place. Tuk Tuk or bicycles are the best ways to get around all the sites and temples.
You can buy a day pass for $20 or opt for a 3-day pass $40 (recommended) which you can use within a week of purchase…with so much to see you won't regret spending that bit extra here!
$1 back massage!
Yes that's right! For the silly price of one dollar, lots of lovely Cambodian masseuses will ease all your troubles away with a pleasant 10 minute back and shoulder massage... some even throw in a beer too! This is perfect if you've been carting around heavy backpacks or luggage all day.
Fish Pedicure
Again for a small charge of around $3 you can dip your feet into a tank full of fish, that will gently nibble all of the dead skin off your feet. Perfect for those who have been trekking around Angkor Wat all day or want a natural pedicure at a bargain price!
Advertisements:



Siem Reap is a wonderful city, full of history, culture and warm hearted people. It's cheap to get around in, has many great places to stay no matter what your budget and of course the food is amazing too... try a mok curry, which is one of Cambodia's national dishes. 
Photo by Yogesh Rao on flickr
You should follow me on twitter here.