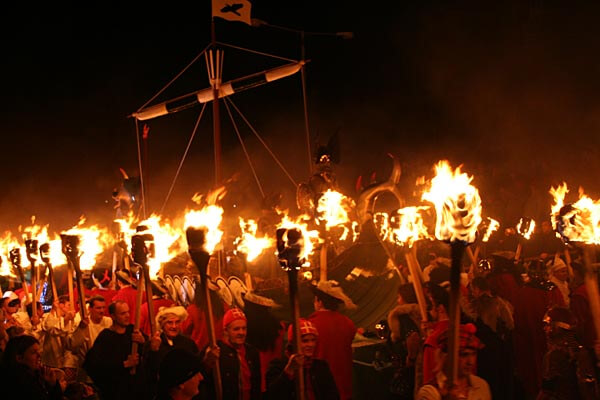 With its origins in the 1880s, Up Helly Aa is the largest and oldest fire festival in Europe. It is an all-day and all-night event that features parades, processions, feasting, dancing, entertainment and the burning of a Viking Galley (ship) replica. It takes place in Lerwick, Shetland, Scotland on the final Tuesday in January annually. The event is organized by a council known as "guizers' headed by a main guizer, known as a "Jarl". This group is hard at work on preparations for Up Helly Ah all year round, and it is truly an exciting mid-winter event.
Advertisements:



Throughout the day torch bearing processions of guizers in full-Viking regalia parade through the town visiting various locations such as hotels, schools, and sports facilities. It is a day of partying, and everyone in town joins in the act. In the evening, residents and visitors enjoy singing, dancing, entertainment and feasting. At the end of the day, the Viking guizers toss their torches into the galley replica and set it ablaze.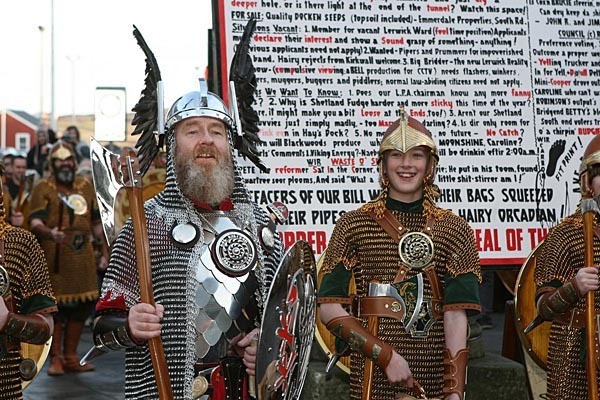 In addition to Viking regalia, the squads of torch bearing men often dress up quite flamboyantly as women. The reason for this is that the rules of the festival do not allow women in the squads. This interesting tradition has resulted in Up Helly Aa being dubbed "Transvestite Tuesday". Even though participation in the actual celebration is limited to members of the Viking squad, Up Helly Aa is a sight to behold for visitors, and it marks a day and night of festival and merriment that can be enjoyed by all.
Of course, the photo ops at a torch and bonfire festival filled with men dressed as Vikings and flamboyant women abound! Up Helly Aa is a rough and tumble Scottish experience that is not to be missed!
Up Helly Aa! dates and location
Up Helly Aa! takes places at the end of January each year, on the final Tuesday of the month. The event is a whole day affair, so if you're looking to enjoy the entire festival, then get a good nights sleep the evening before.
Lerwick
Shetland
ZE1 0AX
United Kingdom
Photos by reynard (1) and colemic2006 (2) on flickr
You should follow me on twitter here.