Bustling London is perfect to celebrate a romantic Valentine's Day with a wife or girlfriend. Whether it's making chocolate, going to a comedy club, or eating some of the world's best food that tickles your fancy, London has something to offer everyone.
Romantic activities in London
Chocolate-making workshop on Valentine's Day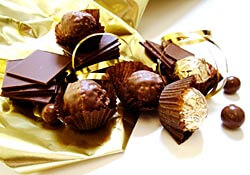 Chocolate is an aphrosidiac, so what would top chocolate-making as a sensous start to Valentine's Day? The chocolate-making workshop offers up dinner, lots of champagne and strawberries, and chocolate for you and your Valentine. The 50s-style chocolate making Valentines Day workshop will be bathed in flickering candlelight and each couple with have their own table to ensure an intimate evening of romance and fun.
Monkey Business Chalk Farm
Laugther is both the best medicine and a turn-on, so this Valentine's Special lineup with Milton Jones, Jaik Campbell, and Pete Jonas will get you all loved up and laughter-filled. MC Martin Besserman. Doors are at 7.30pm and the laughter starts around 8.45pm, so have an early dinner, grab a drink once at the venue, and finish the night off in style. Tickets are £10.50.
Sir Richard Steel
97 Haverstock Hill
London
NW3 4RL
Valentine Storytelling
Celebrate Valentine's Day with a retelling of the mythical Babylonian love story of Tammuz and Ishtar. Free tickets available from the Paul Hamlyn Library. Meet in the south west corner of the Great Court, near the Lion of Knidos. The storytelling takes place at 12pm, 1.30pm, and 3pm on Valentine's Day.
British Museum
44 Great Russell Street
London
WC1B 3DG
Valentine's Day Jewellery Workshop
Learn how to make a unique piece of solid silver jewellery for your Valentine with Jessica van Zanten. The workshop costs £35 per person and you can get more information at the Dulwich Jewellery website.
Dulwich Jewellery School
31 Court Lane
London
SE21 7DH
Valentine's Day restaurants
Arbutus
Arbutus offers stunning French and European cuisine in a relaxed and stylish restaurant in the heart of Soho. The restaurant also offers outstanding value, and was included in a great roundup of budget restaurants from The Guardian.
63-64 Frith Street
London
W1D 3JW

Phone: +44 871 971 4352
Website: www.arbutusrestaurant.co.uk
Jom Makan has closed down
Jom Makan serves up a £1 each special for starters, mains, and desserts for this Valentine's Day. I expect this Malaysian restaurant near Trafalgar Square will be mobbed on the day, so make sure to register at the website from 10 February onwards. This will give you a voucher to bring with you on the day. Tables are given out on a first come, first served basis, so make it there early for a budget-friendly Valentine's Day dinner.
The Valentine's Day menu is served from 12pm to 11pm on 14 February.
Phone: Closed down.
Website: Closed down.
Brompton Quarter Cafe
With an eclectic range of main courses from all over the world, the Brompton Quarter Cafe caters superbly for the adventurous diner. Its selection of breads, cakes and sweets also prove a dream for those with a sweet tooth.
223-225 Brompton Road
Knightsbridge
London
SW3 2BY

Phone: +44 871 971 4662
Website: www.bromptonquartercafe.com
After dinner drinks
5th View Bar
5th View Bar offers an incomparable environment in which to enjoy rooftop views towards the Houses of Parliament, combined with premium cocktails and casual, high quality dining. The bar closes at 10pm on Monday through Saturday, so is perfect for a drink after dinner on Valentine's Day.
Waterstones
203-205 Piccadilly
St James
London
W1J 9HA

Phone: +44 871 971 4452
Website: www.5thview.co.uk
The Marquis
This beautiful pub is cosy, warming and genuinely lovely. Food and drink are much cheaper than at upmarket bars and restaurants, but the pretty decor and lighting will set the romantic mood nicely.
Advertisements:



51-52 Chandos Place
Covent Garden
WC2N 4HS

Phone: +44 872 148 4046
Amorous hotels in London
Church Street Hotel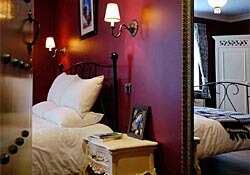 Church Street Hotel is anything but what it seems, its smart grey façade conceals the secrets that lie within. Step inside this boutique hotel and you are transported to a world far, far away from bustling South London. The insides of Church Street Hotel have more in common with Venice Beach or Cuba than Camberwell. Brothers Jose and Mel Raido spent two years creating this special place, and the personal touch is everywhere.
Deriving inspiration from it's name, Church Street Hotel has been fashioned with a Spanish-Americana religious flavour; the reception desk is an exotic former altar and the corridors are decorated with icons and candles. Through beautiful arched doorways, the rooms are a kaleidoscope of stone-washed blues, greens and yellows, while the bathrooms are covered with intricate hand-painted Mexican tiles, and you'll be sleeping in an old-fashioined cast iron bed. Rooms from £70 per night.
St James's Hotel & Club
Fresh from renovation, this elegant London hotel is perfect for a romantic sleepover. Housed in a charming Victorian townhouse in fashionable St James, your room will most likely have a balcony with a view of the city's rooftops. The Andaman restaurant serves up some of London's finest food and the barserves as a social hub of St James's. Rooms at
St James's Hotel & Club
start at £195 per night.
Durley House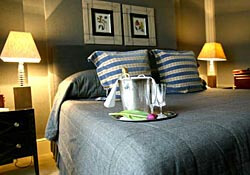 Another Knightsbridge hotel, Durley House is a romantic's idea of a luxury hotel on swanky Sloane Street. The wood panelled entrance invites you through to the cozy reception area, where you are met by the warmth of the glowing fireplace and a cosy sitting room. All of the hotel's 11 suites have their own kitchens. But for a romantic evening, order room service and be impressed by the English charm of your own butler for the evening. Rooms from £250 per night.
The Beaufort
The Beaufort is a perfectly-formed gem of 29 bedrooms, a privately owned boutique hotel in London's exclusive Knightsbridge neighborhood. This idyllic hideaway right in the heart of Knightsbridge is brimming with meticulous attention to detail and passion for first-class service. Original English watercolour paintings grace the walls. In the evenings, the warm and comfortable contemporary sitting room is an ideal spot to enjoy some drinks. Rooms from £140 per night.
You should follow me on twitter here.