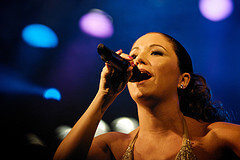 Brazil is the largest country in South America and the largest city in Brazil is Sao Paulo. This is a unique city in and of itself, but there is one annual event that draws millions of people every May. It is the Virada Cultural festival.
Virada Cultural is a festival that promotes a 24 hour marathon of culture which exhibits dance shows, music shows classical and orchestra presentations as well as theater, cinema, comic, cooking and wrestling championships and acrobatic performances
The festival starts on a Saturday night and ends on Sunday afternoon. It is inspired from a festival in Paris. It was started in 2005 and takes place in different area of the down town at cultural centers, clubs, and schools. You will see things that you don't see every day. There is also food in abundance as with any good festival.
Advertisements:



Since it such a popular event, reservations need to be made far in advance for lodging. The Virada Cultural festival in Sao Paulo is truly a unique trip destination. There is something there for everyone to watch, listen to or be involved in. So make your reservations now for next May.
Photo by Silvio Tanaka on flickr
You should follow me on twitter here.