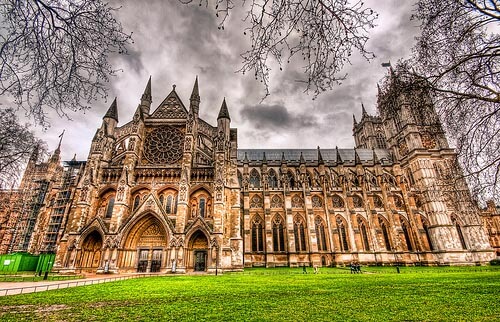 Westminster Abbey is a famous sight in London, England. It is easily found, not only because of its size but also because of its proximity to the Houses of Parliament. It is a Gothic monastery church that is best known for being the place where British monarchs are crowned, married, and buried. As the Queen of England is considered the head of the Church of England, Westminster Abbey is owned by the Royal Family, yet it is open to the public.
The Very Reverend Dr. John Hall is the current Dean of the Abbey and he welcomes worshipers and visitors, alike. The Abbey is open for worship three times a day for morning prayer, Evensong, and the Eucharist. It is also open for tours. Fans of medieval architecture will be impressed by what they encounter on the tour.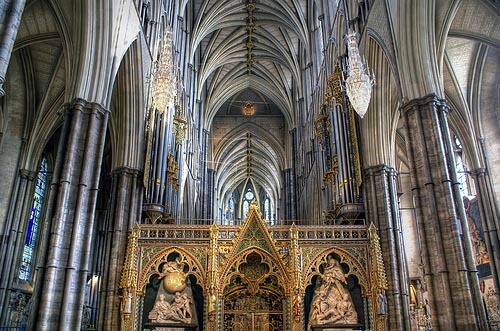 Visitors to this stunning location will no doubt be awed by the amount of history it contains. It was built by Edward the Confessor between the years of 1045 and 1050. He built the Abbey at the Pope's suggestion. Originally built in the 'Norman' style, it was later rebuilt in the 'Gothic' style by King Henry III.
Most of England's monarchs up to the early 1900s are buried in the Abbey. So are many notable poets, namely England's famous poet Geoffrey Chaucer who is, perhaps, best known for writing "The Canterbury Tales."
In fact, so many poets are buried near Chaucer in Westminster Abbey that the area is called "Poet's Corner" and a popular tourist destination in and of itself. But besides being a popular burial ground, the Abbey is also full of history and tradition, of which you will be told about when you take the tour.
Westminster Abbey address and hours
Westminster Abbey
20 Dean's Yard
London SW1P 3PA
England
Phone: +44 (0)20 7222 5152
Monday, Tuesday, Thursday, Friday: 9.30am - 4.30pm (last admission 3.30pm)
Wednesday: 9.30am - 7.00pm (last admission 6.00pm)
Saturday: 9.30am - 2.30pm (last admission 1.30pm)
Sunday: Worship only, closed to tourists
Advertisements:



Photos by hjjanisch (1) and J. Salmoral (2) on flickr
You should follow me on twitter here.