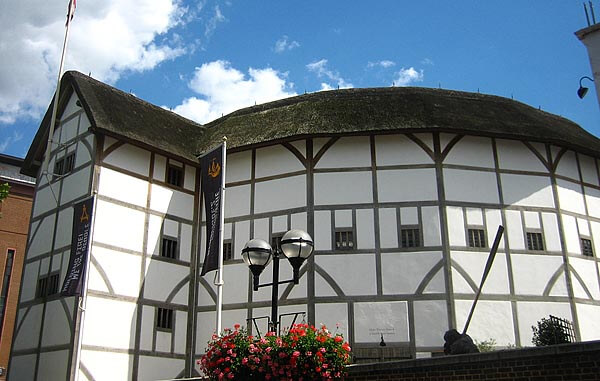 The original Shakespeare's Globe burnt down during a fire in the 17th century. However, today's was built using the same dimensions as the original, the authenticity is completely preserved as you time travel back to the 1600s to re-live some of Shakespeare's greatest plays. Natural lighting and minimal scenery is used to enhance the authentic image and draw on all the actors' skills to play such greats as Hamlet and Othello. The Globe now stands on the Southbank, adjacent to the Thames River, in London.
The seating is also designed to mirror the original, meaning there is even a standing area to watch the plays. Prices begin at £5 for an adult, an absolute bargain for the fantastic harmony of past and present combined to produce truly memorable performances.
In addition to the theater performances (by the way, they do put on non-Shakespeare plays through the season as well), there's an exhibit about London in Shakespeare's time. It also covers the construction of the modern day Globe Theatre.
Shakespeare's Globe address and hours
Bankside
21 New Globe Walk
London
SE1 9DT
Phone: +44 (0)20 7902 1400
Until early October (Theatre Season opening hours)
Monday - Saturday
Exhibition and Globe Theatre Tour: 9am - 12.30pm
Exhibition and Rose Theatre Tour: 1pm to 5pm
Sunday
Exhibition and Globe Theatre Tour: 9am - 11.30am
Exhibition and Rose Theatre Tour: 12 noon to 5pm
There is no access to the theatre during matinee performances. Visitors will be taken to the nearby archeological site of the Rose, Bankside's first playhouse.
From early October (Out of Season opening hours)
Monday - Sunday
Exhibition and Globe Theatre Tour
9am - 5pm
Advertisements:



Photo by Kieran Lynam on flickr
You should follow me on twitter here.