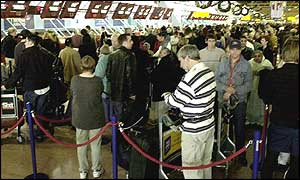 We all spend more and more time in airports, and here are the ones you should avoid if at all possible.
Updated 25 January 2008.
Worst European airports
This is definitely more than a little unscientific, but the New York Times rated the worst European airports as follows:
London's Heathrow
Paris' Charles de Gaulle
Rome's Leonardo da Vinci
Frankfurt Airport
Worst U.S. airports
And AvoidDelays.com listed the worst U.S. airports a little while ago as:
New York's LaGuardia
New Jersey's Newark
Chicago's O'Hare
San Francisco International
Philadelphia Airport
Advertisements:



Gadling.com added their list of worst U.S airports as well, both by general suckiness, distance to the city center and difficulty of public transportation. Here are their picks:
Detroit
Newark/New York: " it costs freaking 14$ to get there from Penn Station and THEN you have to take the stupid airtrain around the airport.". You can have a better introduction to New York City!
Los Angeles
Las Vegas
Washington DC (Dulles)
So, if you're looking to have a nice travel experience by plane, shoot for an itinerary which doesn't involve any of these airports. Now, given these lists, that would seem somewhat difficult while in the U.S.A as these are among the world's largest and busiest airports. We'll shortly be adding even more airports to these lists!
Good luck!
Other areas of the world
Of course, the airports in Moscow, Kazakhstan, Pakistan, Lagos, and similar places are pretty bad too. But since we expect them to be absolutely horrible airports, it's somewhat easier to deal with. Unless, of course, you end up getting bumped and have to stay the night at some fleabag hotel.
Any decent airports?
And this begs the question, which is the best airport in the world? Hong Kong International airport.
Share your horrible airport experiences in the comments below.
You should follow me on twitter here.