Getting to and around in Amsterdam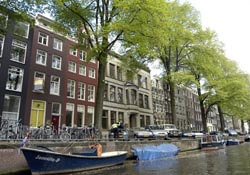 Flying to Amsterdam is the quickest and easiest way to travel, with all the major airlines offering great deals all year round. With the arrival of the low cost no frills budget airlines, fairs have been known to drop to as little as $2 plus taxes each way from England. With cheap flights like these on a first come first served basis, it's not surprising that Amsterdam is a popular destination. Flight times are just over 1 hour from all major UK airports.
Getting into the city centre from Schiphol airport is very straightforward with regular trains running round the clock and takes 20 minutes to arrive, just walk out of the arrivals door and down the escalators onto the train station (don't forget to purchase your tickets from the kiosk before boarding the trains). Catch a train to the city centre (Centrum). On arrival into central station you walk out of the main doors into the city centre, only to be greeted by the local form of transport (bicycle). Cyclists are everywhere, in part due to the narrow streets where cars struggle to fit, so often bicycles are the better option, while also being much more eco-friendly and wallet friendly in this very compact city.

The Amsterdam Central Station
The starting point of most Amsterdam visits, the Centraal Station sees more than 1,500 daily trains.